Artist Series #1 Sarah Ashford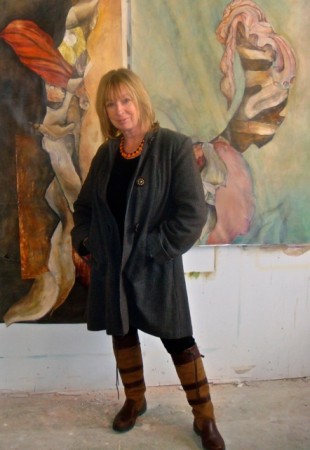 Photo by The Style Crone
The Style Crone has decided to feature women artists over the age of 50 in an ongoing "artist series." The first artist in this new series is Sarah Ashford, a dear friend of many years.  At this point in my life I wouldn't consider painting a room in my home without consulting with her before the brush hits the wall.  The above photo shows Sarah in her studio with two of her fascinating and beautiful pieces.  Also, as evidenced in this photo, she has become known for adorning her neck with stunning ornaments as her accessory of choice.
And now, in Sarah's own words, "Born in the UK I attended art college and graduated with a B.A. in Fine Art before moving to the States in the early 80's. My work has always focused on the figure, starting with charcoal renderings and then adding other elements using mixed media on paper. Always looking to evolve my visual vocabulary I am drawn to aspects of nature and to ultimately incorporate this into my paintings. My areas of fascination extend from historical monuments, found objects, washed up driftwood, dying and rotting foliage, anything with a story to tell.  I like to photograph and document items of interest on my day to day journey or particularly when traveling somewhere new and exciting. My love for textures and visual beautification has allowed me to work, for the past 20 years, in people's homes taking commonplace and ordinary interiors to the extraordinary and exquisite. I'm basically a fine artist who uses mixed media on paper.  I used to exhibit frequently and am putting a new body of work together with a show in mind for this next year."
Check out Sarah's website at Sarah Ashford Studio to view her amazing work and accomplishments. As stated on Sarah's site, "Since 1990 Sarah Ashford Studio has been redefining tradition with our unique painted wall finishes, techniques and colors. Working locally and internationally to enhance interiors from mountain retreats, European dwellings and urban abodes to develop a classic sophisticated style. We encompass all aspects of decorative art services, from murals, design, fine art and historical reproduction in commercial and luxury residential interiors. We have been featured by numerous local and national publications."
The Style Crone is fortunate to have this talented, generous, and interesting woman as a part of her life's vibrant landscape!