ALEMBIKA – The Beautiful Brand Distributed by Roni Rabl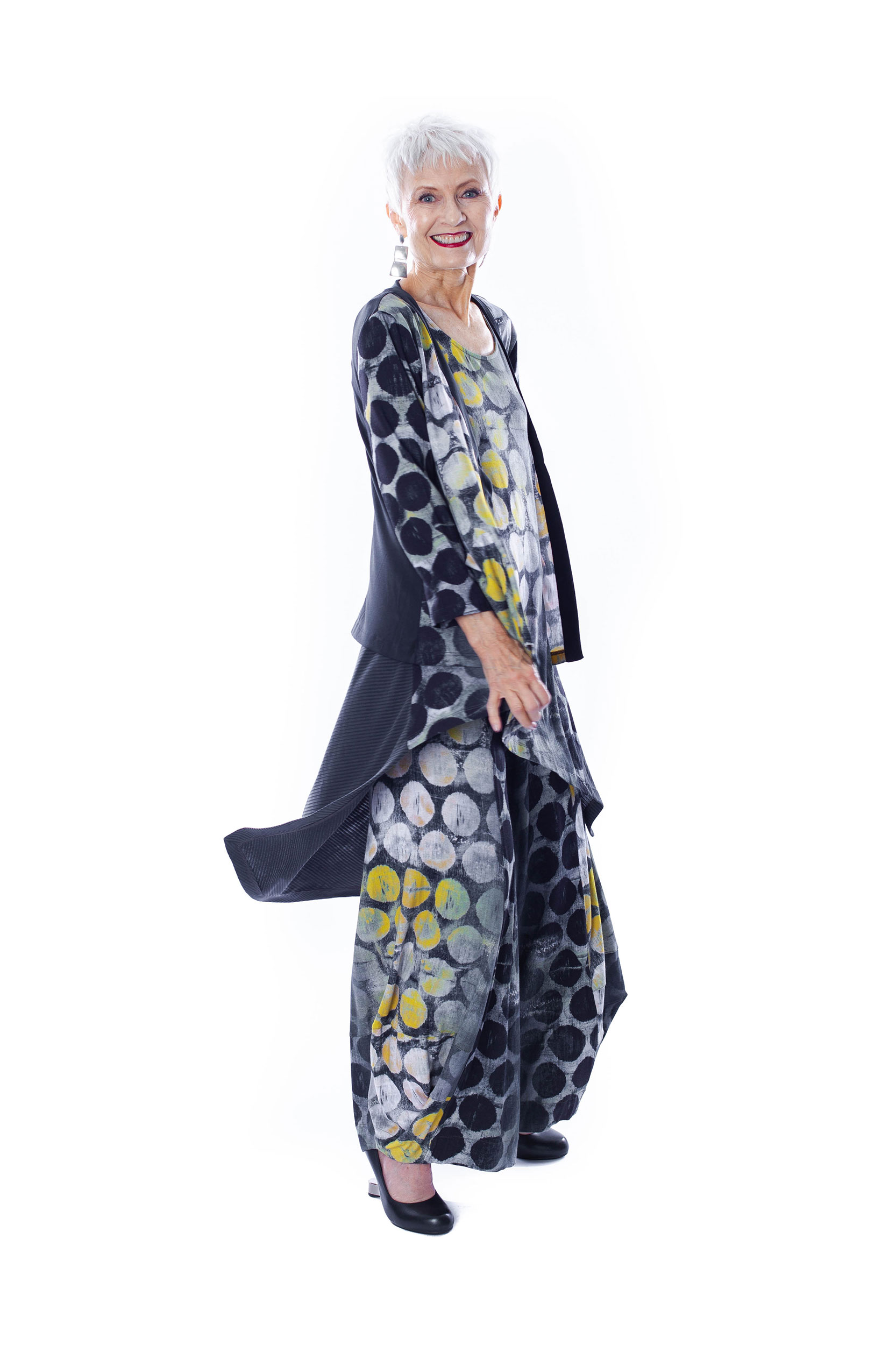 The hive look: tunic, pants and cardigan – here
Last September during New York Fashion Week I met Yael Edelist  and Alin Wagner-Lahmy of Roni Rabl.  I visited their trade show, Studio Atelier NYC, which is a gathering of over 50 well-established brands from the fashion retail world. I discovered a community of designers and buyers who work together in an intimate space filled with an abundance of artful, unique clothing and accessories.
During my most recent trip to NYC I reconnected before my travels, and visited them in their studio.  I was welcomed with open arms by Yael and Alin, and I participated in a highly spirited photo shoot, wearing Alembika, one of the lines represented by Roni Rabl. The photographer, Bianca Alexis, was talented, skilled, and so much fun.  The smile on my face reflects the exuberant energy in the room.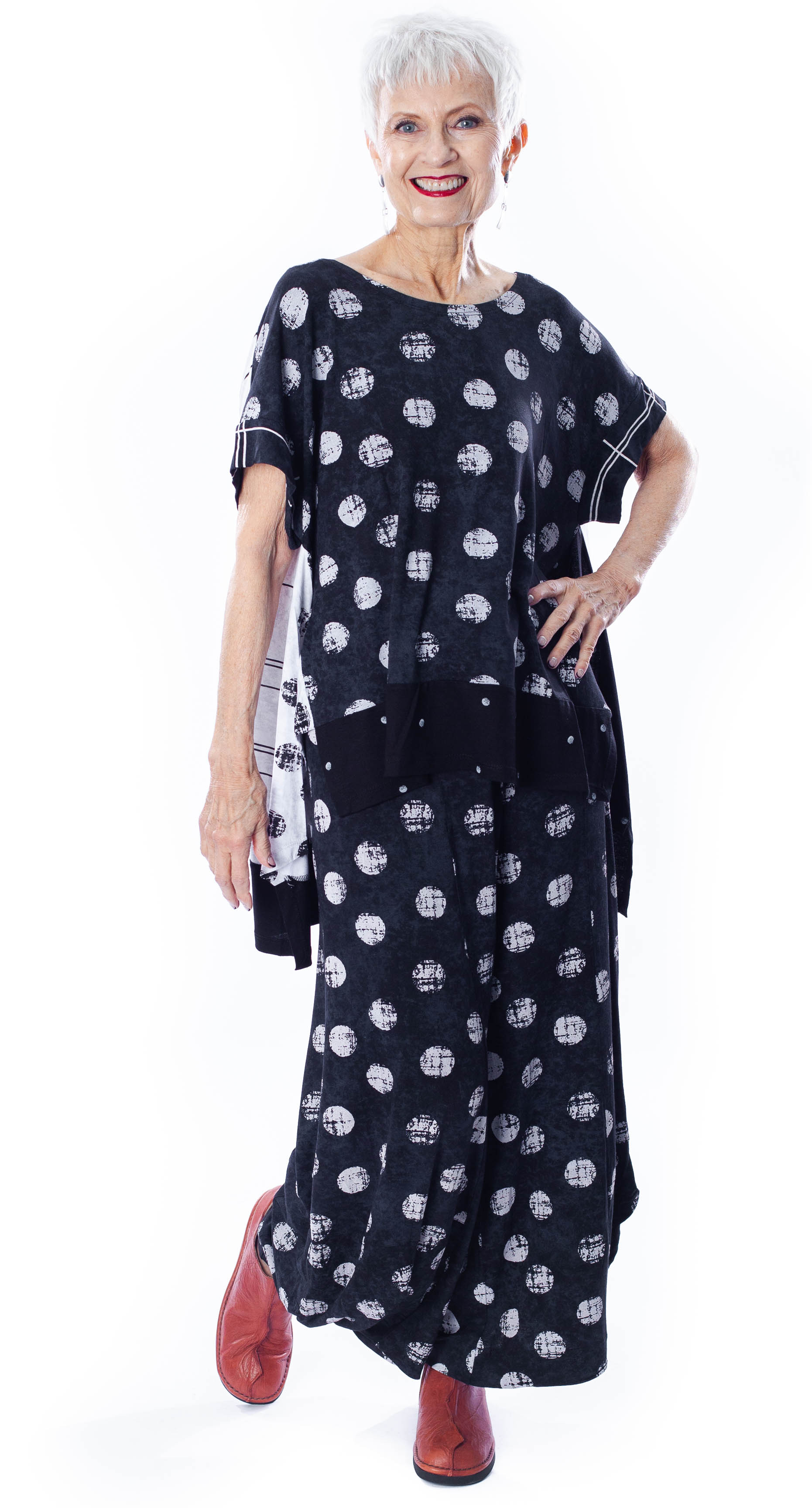 Swing dotted top – here   Dotted punto pants – here
Roni Rabl Inc, the sole exclusive distributor of ALEMBIKA in the US, is the story of a mother and a daughter, providing unique novelty clothes to stores across the US, serving well over 500 stores nation-wide. Roni Rabl is about looking fabulous with no age or weight restriction.
ALEMBIKA was founded in 2005 by fashion designer Hagar Alembika, a graduate fo Shenkar School of Design, and Judith Fadlon PHD, an anthropologist.
"At ALEMBIKA we would like you to feel comfortable with your body, not the body you're working on, fantasizing about, or wish to have.  The one that you have right now," says Hagar.  "We, like you, believe the the essence of femininity lies in flexibility, change and flow.  We offer you clothes that understand that.".
ALEMBIKA is available in selected boutiques across the US, and in online stores.
Apart from ALEMBIKA, Roni Rabl imports 7 more international brands, including Two Danes (Denmark), Grizas, JiU (Japan), Kedziorek (Poland), Ozai-N-Ku (Greece), Lauren Vidal (France)… Quotes from Roni Rabl and Alembika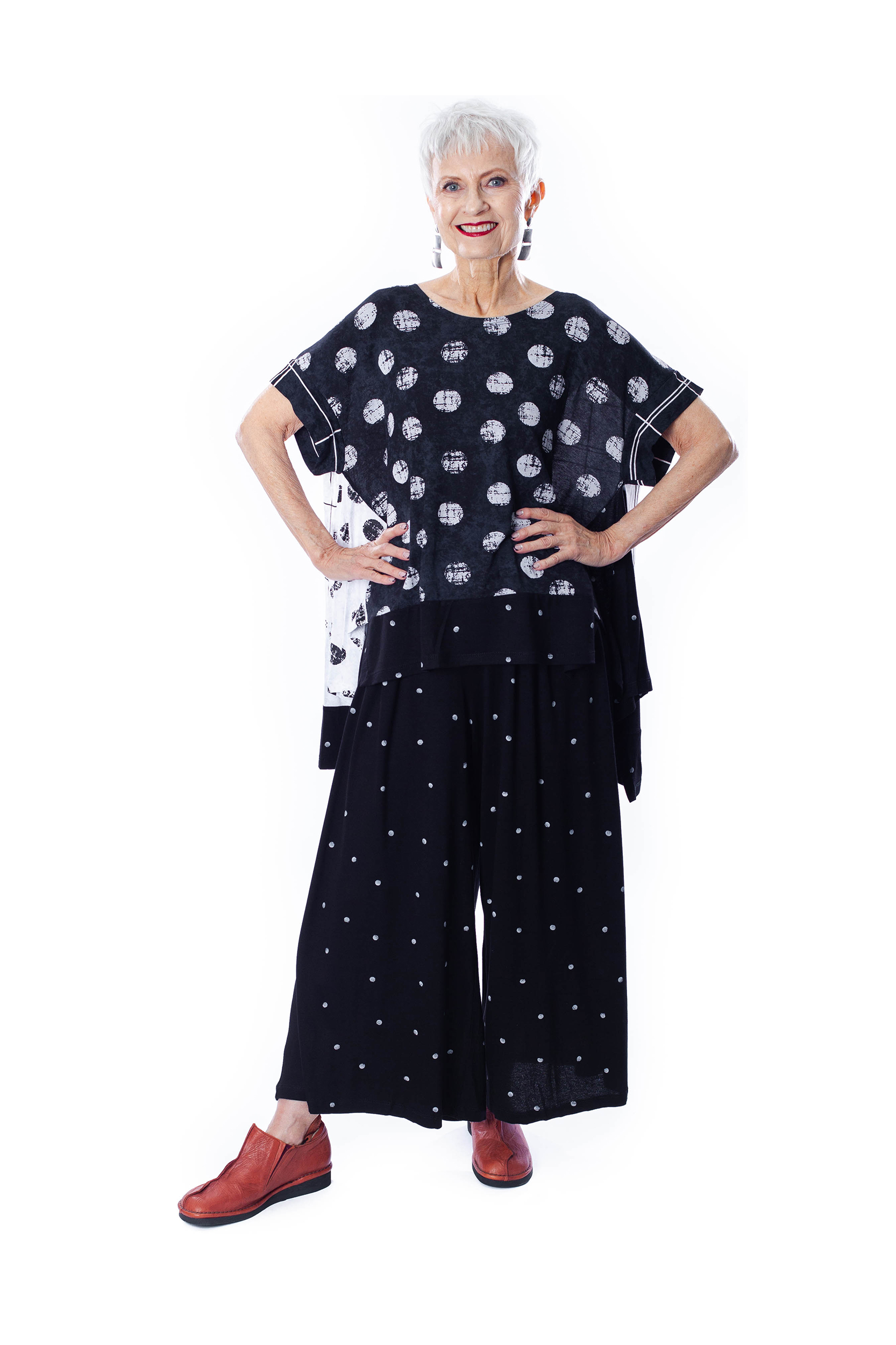 Swing dotted top – here    Dotted wide leg pant – here  
ALEMBIKA's Spring-Summer collection is a tour-de-force of color and character.

It is filled with flower prints and polka dots; whimsical and free. Layers upon layers of fantastic storytelling, of lollipop creativity and yet its adult lines make it a collection with a persona. 
The spring 19 Collection brings us the beloved motifs we are all familiar with, and takes them a major step forward. The Polka Dot that used to be a shy add is now shining bright, with great pride. The stripes that at times were decorative are now center stage. The colors that we have missed so much are now dominant and vibrant. 
For Hagar Alembik, the designer, every fabric tells a different story, and each and every story is interesting.
With its Spring/ Summer 2019 collection, ALEMBIKA tells us – let loose!
Be free and be yourself, you are worth it.
"Present yourself with pride, respect yourself, it is, after all – ABOUT YOU"…A quote from Roni Rabl and Alembika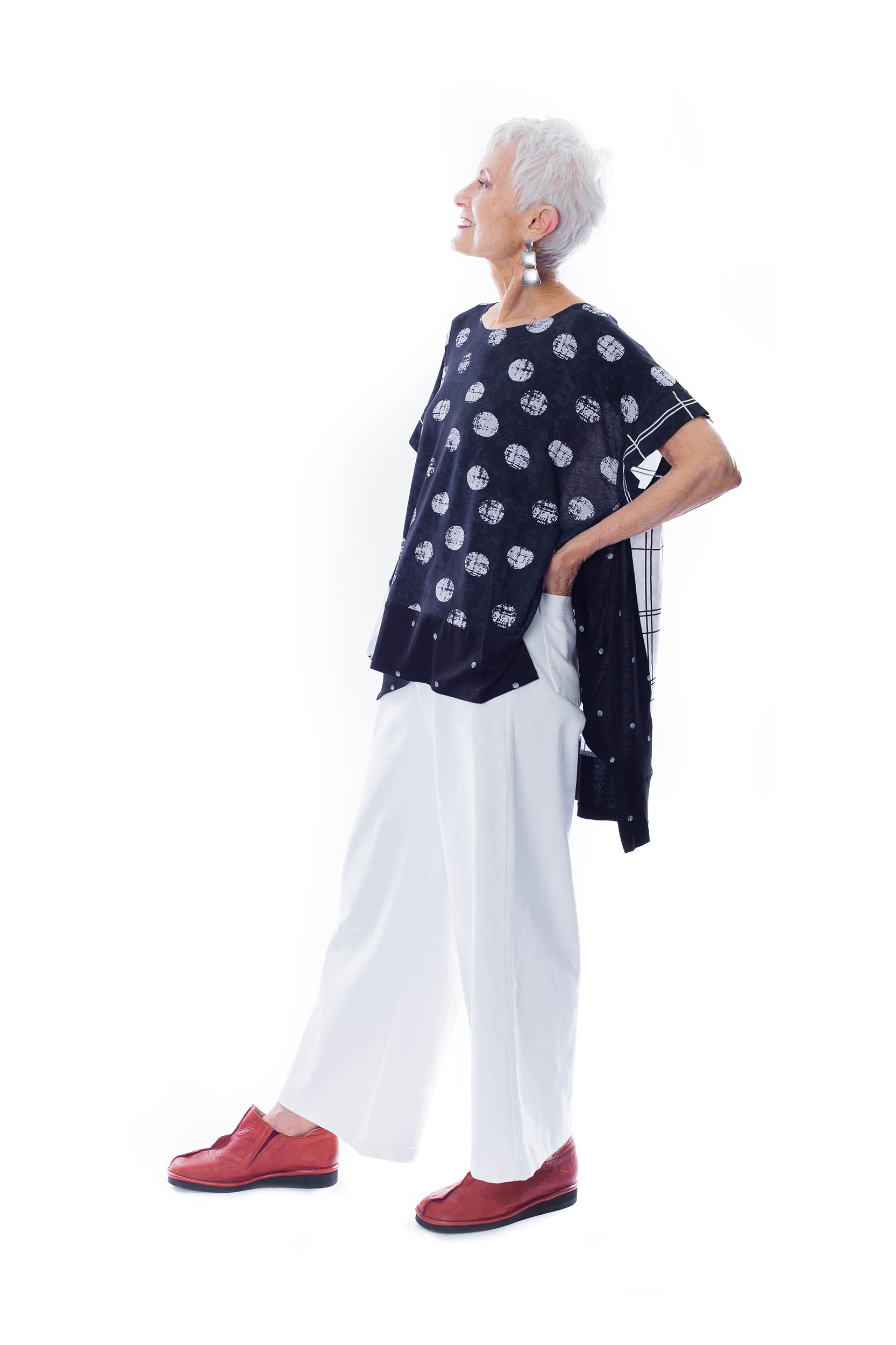 Swing dotted top – here    White denim wide leg pant – here
Photos by  Bianca Alexis
Shop the main page for all styles here, most of which are modeled by Style Crone.
As you can see in the photos above, wearing one top with three different pairs of pants changes the entire look of an ensemble. The pieces are floaty, stylish, and comfortable and can be worn from day to evening with the magical addition of accessories.
It's easy to add to one's choices with classy and versatile pieces that work in numerous ways. Because of my focus on and celebration of diversity and inclusion, I appreciate a brand that designs clothing for all ages and sizes.
Thank you to Alin, Yael, and Bianca, for the fun and frivolity, and the opportunity to wear and explore the wonders of ALEMBIKA. The experience was one of the high points of my NYC adventure!
Roni Babl can be found on Facebook and Instagram, and Alembika also has a presence on Instagram and Facebook!
This is a sponsored post.  My opinions are totally Style Crone.
Linking up with Patti's Visible Monday HERE at Not Dead Yet Style.