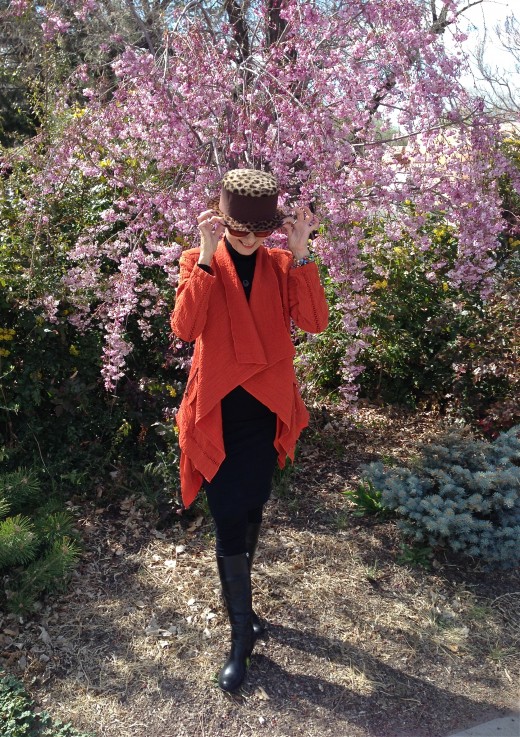 The SC and Mr. J drove to New Mexico from Denver for a short getaway.  Often referred to as the land of enchantment, our stay in Santa Fe lived up to its reputation. Spring was well on its way, evidenced by flowering fruit trees along our path.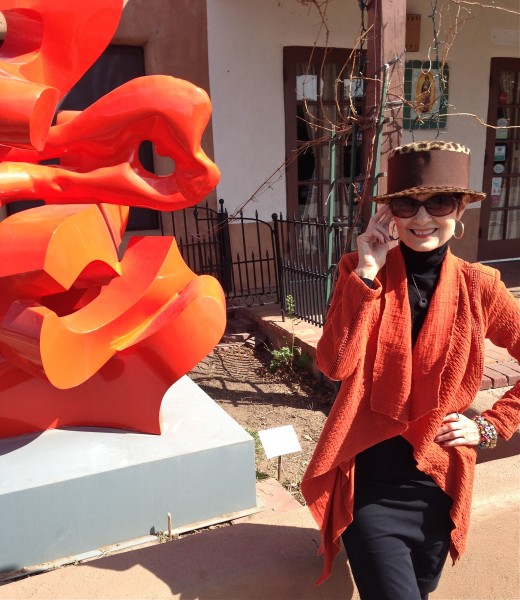 Sculptures and a vast variety of art greeted us from all directions.  The food was influenced by many cultures and the people friendly and interesting.  It was well worth the six hour drive to reach this nurturing destination.
Hat by Erin Saboe of Denver and orange jacket discovered at a Santa Fe boutique, on black background.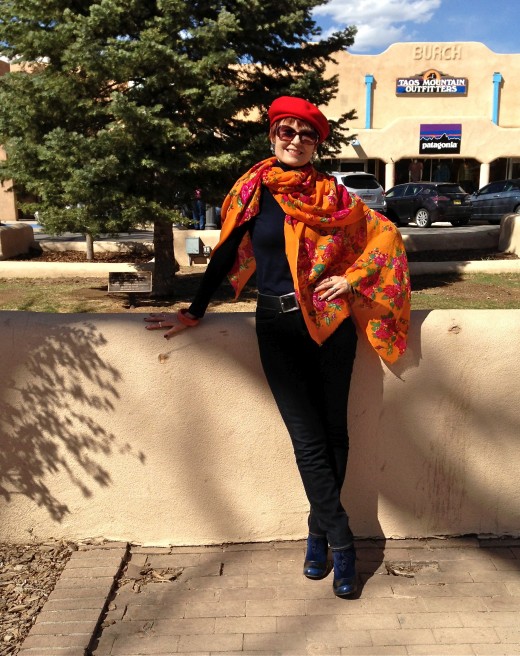 A day trip to Taos HERE, home to numerous art galleries and historic sites, was about an hour from Santa Fe in the Sangre de Cristo Mountains. The Taos Plaza in the center of town provided a place to relax and watch the world go by at a slower pace than usual.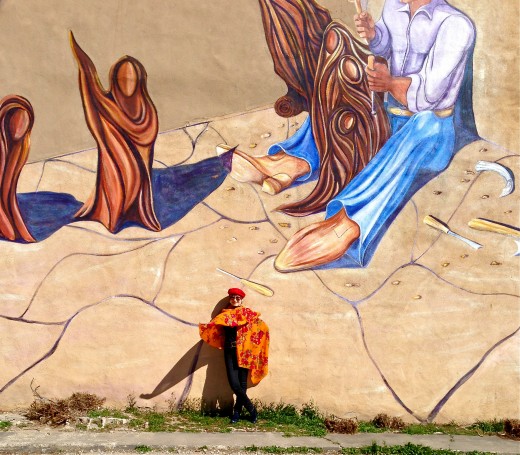 The mural facing the Plaza was too large to capture in full, but magnificent to behold.
Orange and fuchsia/red floral scarf purchased at a Denver boutique and estate sale red beret with jeans and Fluevog booties.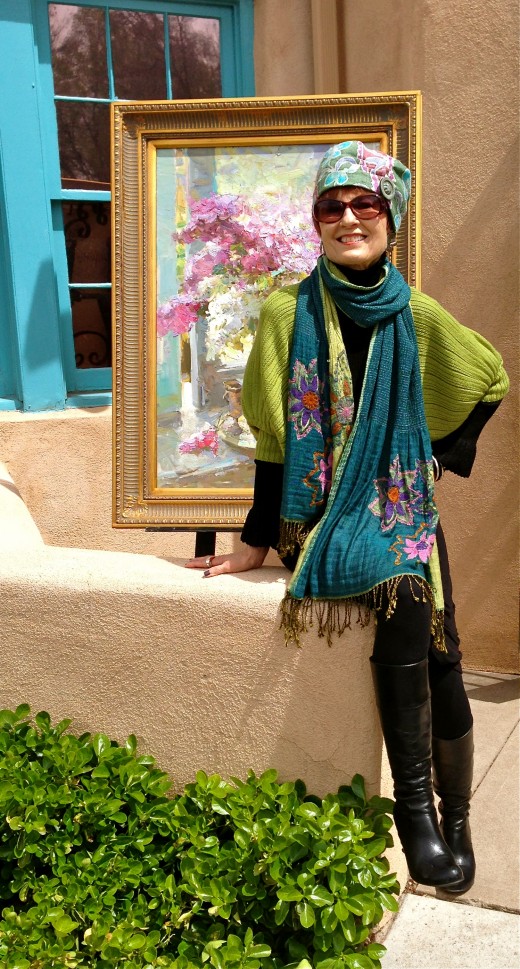 We spent a day exploring Canyon Road HERE, a world-renowned art district of over a hundred galleries, boutiques and restaurants located in a one half mile area within Santa Fe.
The magical wind sculptures were a garden of movement, color and creative design at Mark White Fine Art HERE.
Patterned fabric hat purchased at a Santa Fe boutique, green sweater found retail years ago, and Mieko Mintz reversible floral scarf all on black background.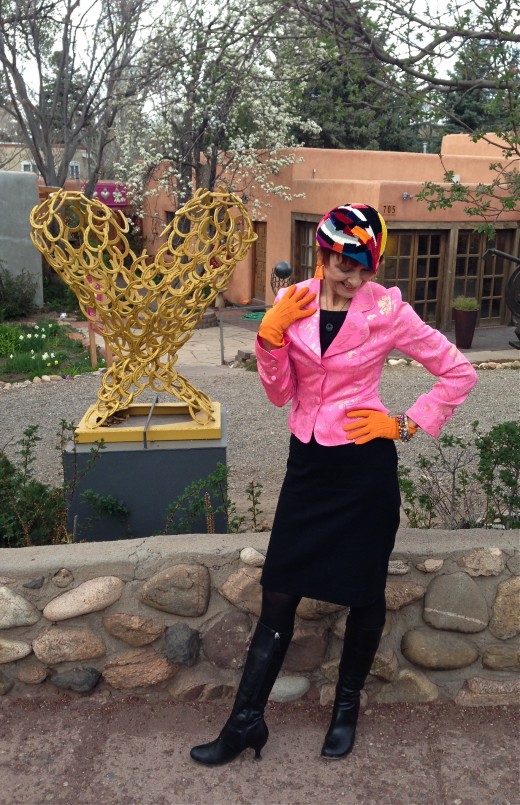 Our final evening in Santa Fe took us back to Canyon Road for dinner.  The SC chose to wear "Denise," a hat created by milliner and artist Carol Markel of Femme et Fleur HERE.  The pink jacket with subtle gold pattern was found at Ooh La La HERE, a consignment store in Santa Fe.  Orange estate sale gloves and earrings are accompanied by the familiar black background.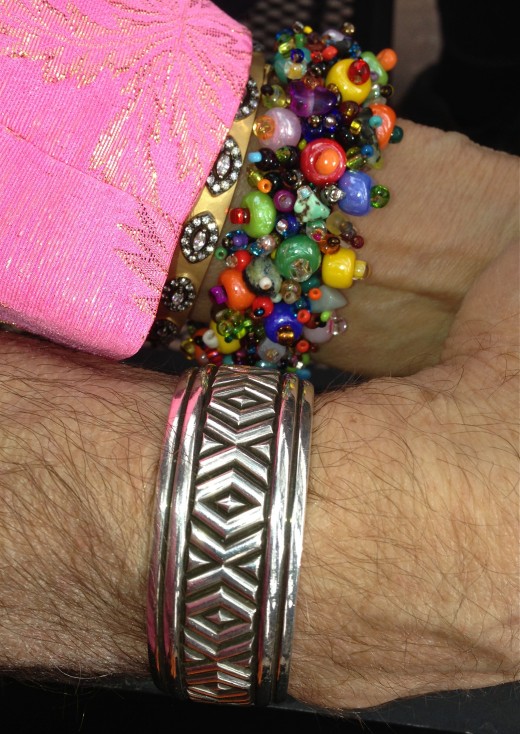 Photos by Mr. J
We had a fabulous time soaking in the gifts that New Mexico has to offer to seekers from around the world!  The SC wore, once again, the multicolored bracelet purchased at D Forsythe Jewelry HERE in Coronado Island and a gifted gold bracelet adorned with rhinestones.  Mr. J is wearing a sterling silver bracelet purchased in Santa Fe several years ago.
Thank you for your kind, touching and supportive comments on last week's post, for which I am very grateful.