The Conference On Aging In New Orleans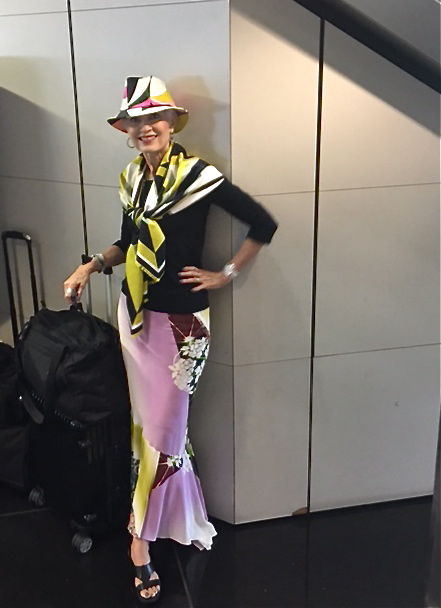 Last week I traveled to New Orleans with Mr. J to attend a four-day conference, Revolutionizing The Culture of Aging, which was presented by The Pioneer Network HERE.  Originally developed around the vision of creating a culture of aging that is life-affirming, satisfying, humane and meaningful in the long-term care setting, its overall aim is nothing less than transforming the culture of aging in America.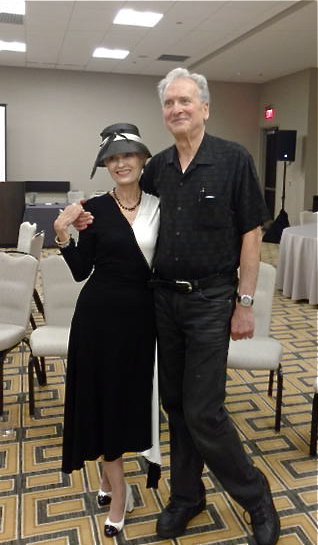 Mr J has been involved with the Pioneer Network for many years, and he generously invited me to present at one of the workshops that he led.  Sage Conversations: Reflections On Aging From An Elder Sage offered a venue for me to talk about the evolution of my blog, the revolutionary Advanced Style Movement created by Ari Seth Cohen HERE, and my views on agism.
I was impressed with the other presenters who shared their wisdom and perspectives. It was a privilege to be included in this dynamic group of leaders who have devoted their lives to culture change in long-term care communities.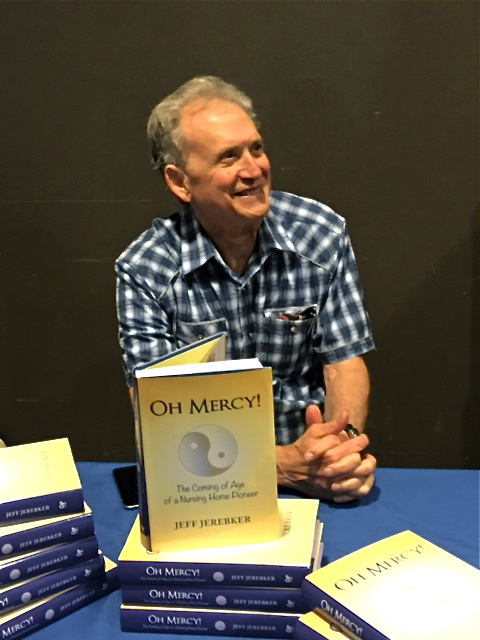 One of the highlights of the conference was Mr J's book signing.  The recently published Oh Mercy! The Coming Of Age Of A Nursing Home Pioneer HERE, is a memoir about his 32 years of experience with his management company Pinon Management and his personal growth during that time.  Mr J was one of the original voices to champion the psycho-social model in long-term care, with a career dedicated to leading care communities through transformation to person-centered care.  His entrepreneurial endeavors are felt across the nation today, as evidenced by the many examples of innovation and culture change that were presented at the conference.
The workshops were compelling, so there was little time to wander.  I did manage to carve out some time to walk the neighborhoods with Erin, my friend who had lived in New Orleans for four years.  She took the above photo on our way to a flea market a short distance from our hotel.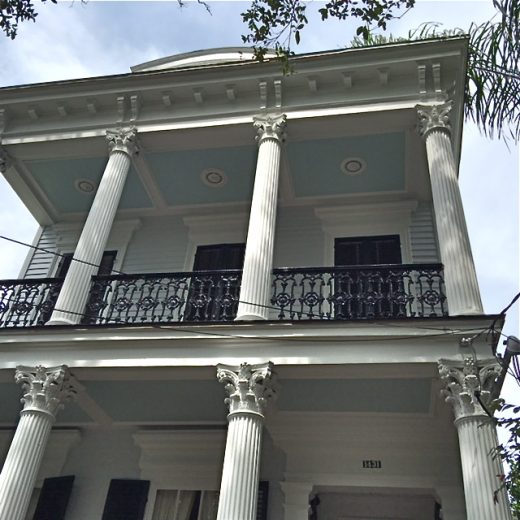 I was happy to be back in magical New Orleans, with its intricate ornamental iron, beautiful architecture, music, culture, history, art, food and diversity. This photo was taken on our way to Magazine Street HERE on the day that we left the city. I was attracted to the ironwork on the balcony of this building and would love to do the tour of the French Quarter Ironwork Trail.  That remains for another visit!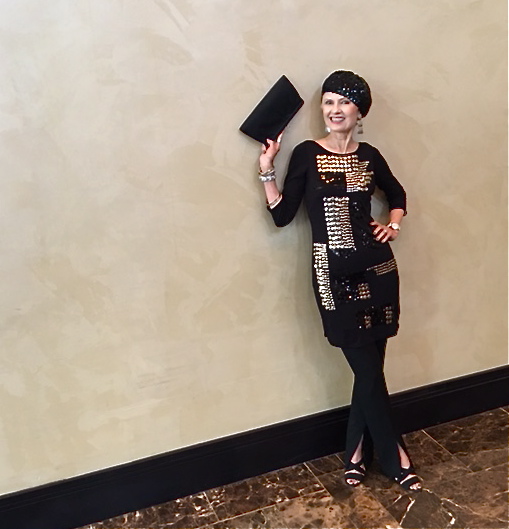 No visit to New Orleans is complete without visiting the French Quarter in the evening, accessorized by touches of sparkle and bling.  Our taxi cab and Lyft drivers, life long residents of the city, honored us with stories of survival during the tragedy of Katrina, the devastating hurricane of 2005.  The energy of suffering and resilience hung heavy in the hot and humid air.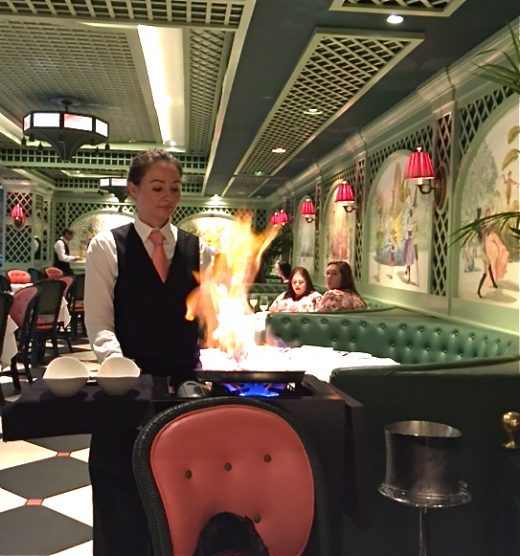 The morning of our departure, we had brunch at Brennan's HERE, a 70-year-old iconic restaurant that stuns with its opulence and charm.  The famous "banana foster" goes up in flames at many a table.
I left for a moment to climb the stairs to the restaurant's second level to admire the dining areas, which were accessorized with chandeliers.  This is just one of the rooms that captured my attention.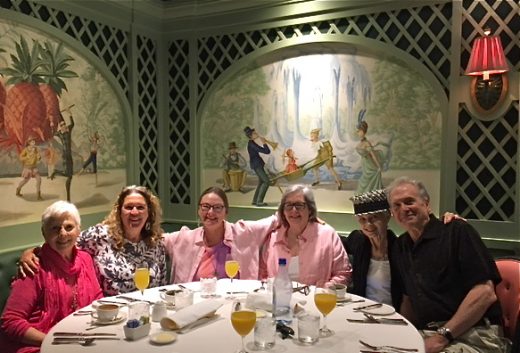 Mr J and myself were honored to be in the company of conference presenters (from left) Sarah, Jude, Sandy and Nancy.  These are just a few of the many inspiring and dedicated people who I met during the conference.  My one regret is that I wasn't able to post photos of everyone who touched my life during the time spent in New Orleans.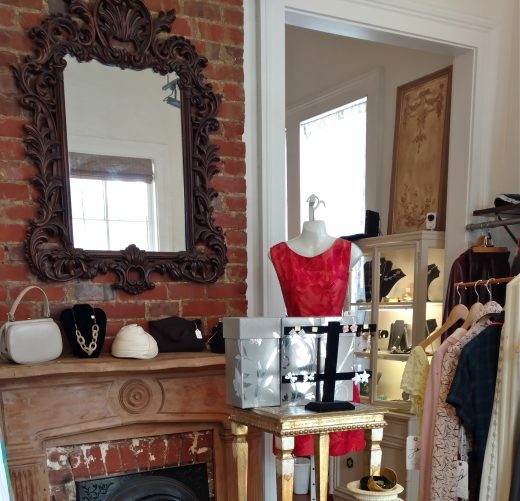 After brunch and before leaving for Denver, and accompanied by friends Janice and Erin, we hit Lili Vintage HERE on Magazine Street.  Its beautifully curated collection kept us captivated until we had to dash to the airport.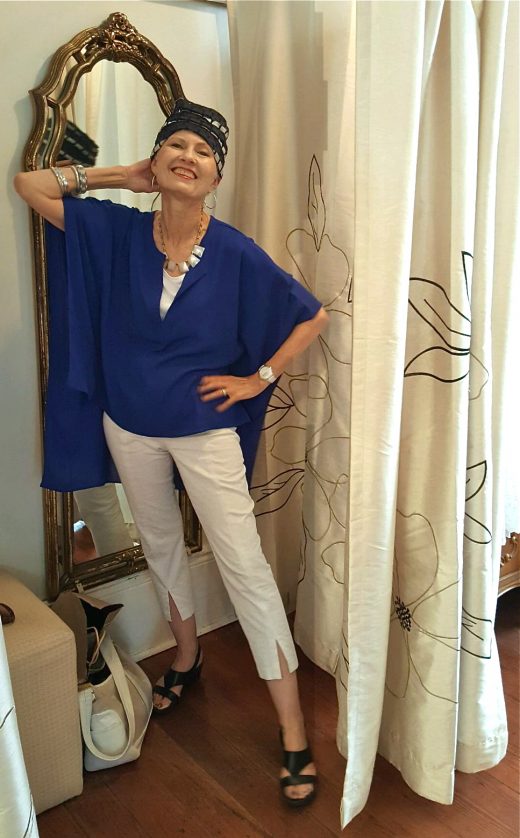 Vintage shop photos by Janice
Trying on a 1920's turban was the grand finale of my New Orleans adventure.  I'm looking forward to our next visit to the city of never-ending mystery and historic neighborhoods.
Linking up with Catherine's #iwillwearwhatilike HERE at Not Dressed As Lamb and Patti's Visible Monday HERE at Not Dead Yet Style.