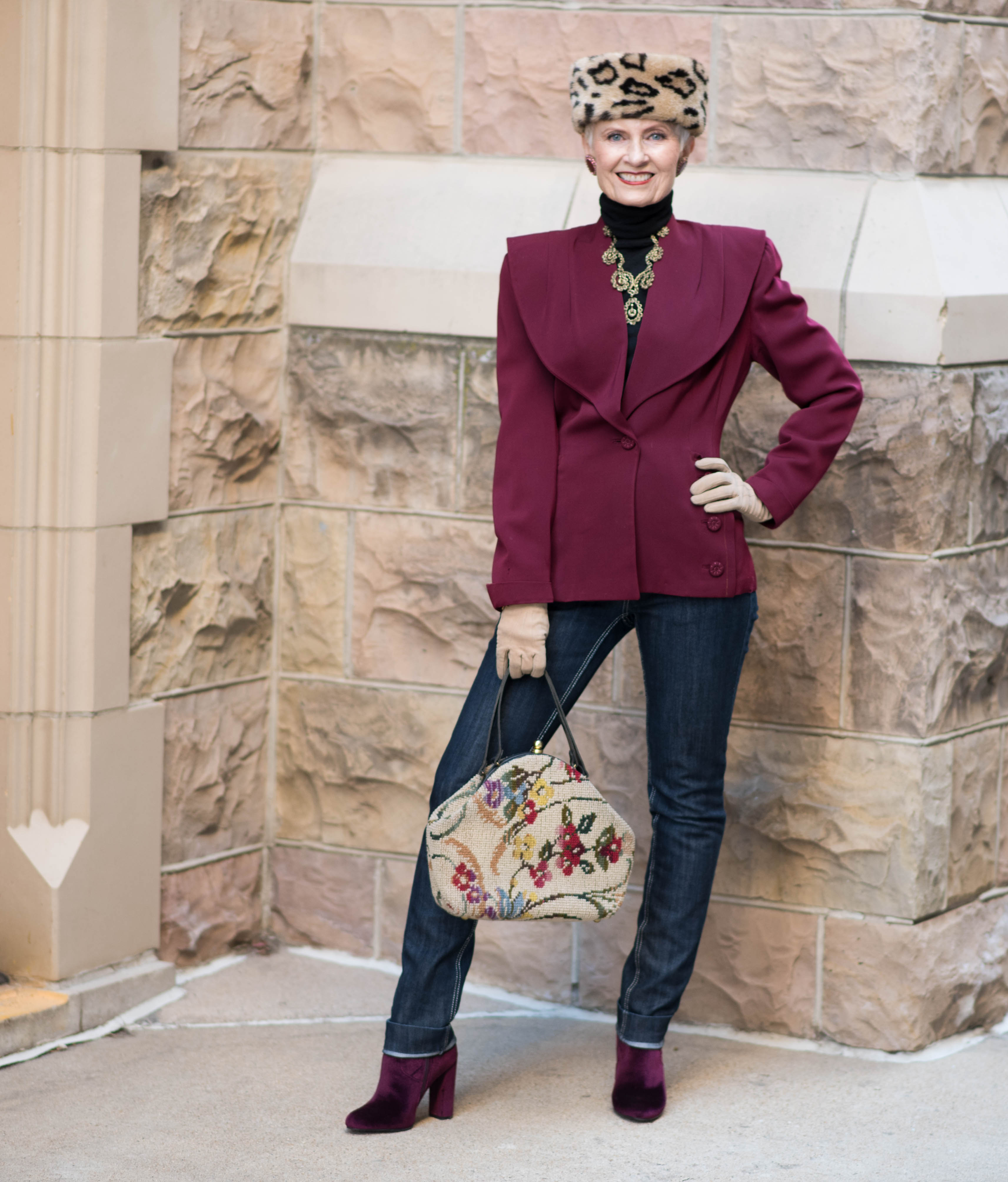 Recently I was contacted by Brian Doben, an accomplished photographer who has an ongoing personal photo series called ATWORK PROJECT.  This project is a series of portraits capturing people who are doing what they love and bringing their passion to their work.
Last week Brian visited my home, which is my place of work.  It's where I launched Style Crone, where I blog and compose ensembles, and where my passion continues to thrive.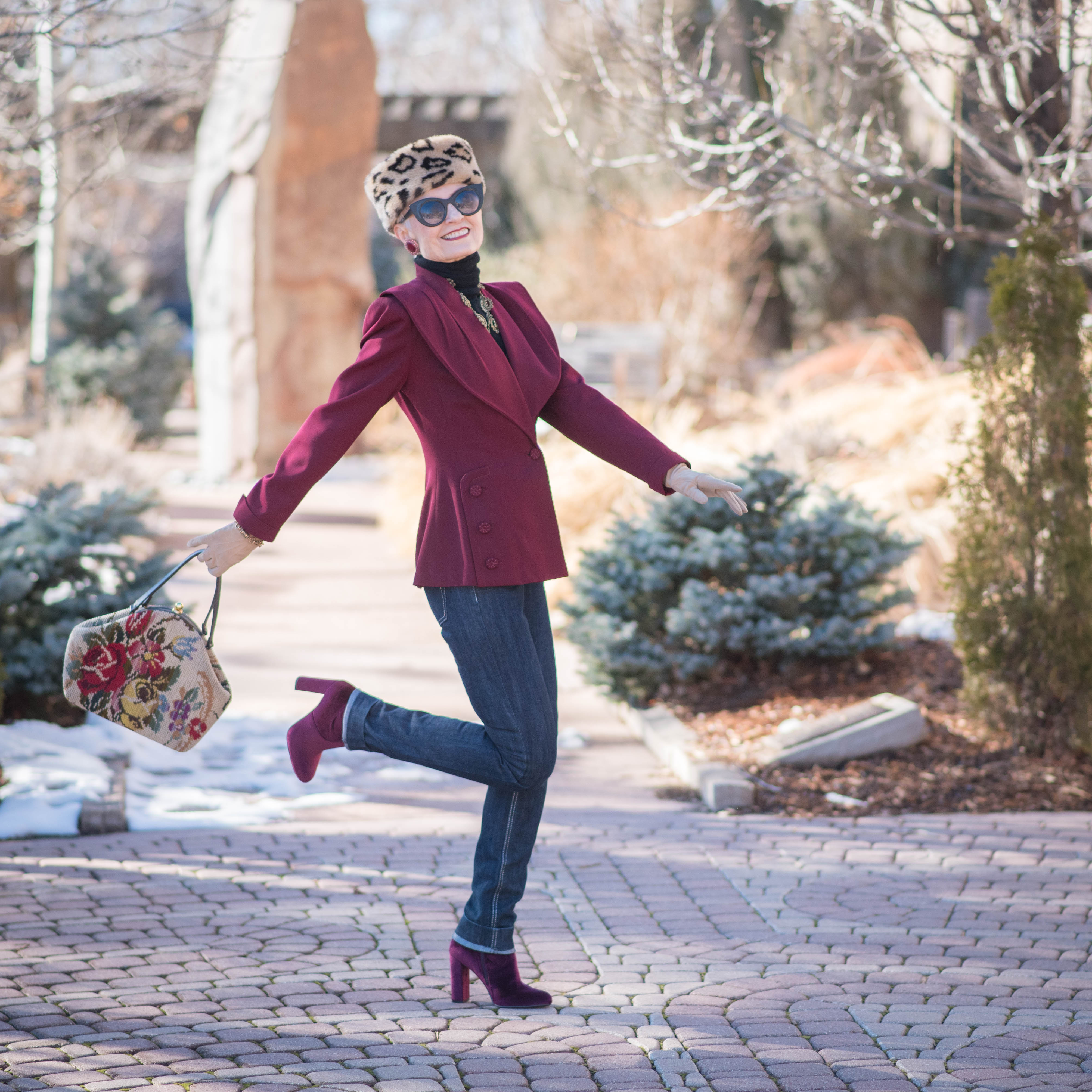 Brian Doben's ongoing "At Work" series documents everyone from tattoo artists and sumo wrestlers to Chemists and prosthetic Limb designers wherever they are. His process has brought him all over the world from L.A., Tokyo and Mumbai, to Cuba, Israel, Australia and all over the US.  'At Work' is a study of our world and how the people in it follow their unique callings. Brian released several dozen of his "At Work" portraits in a book of the same name while simultaneously presenting them at the photography festival Les Rencontres d'Arles in 2013. Since then he's released a steady stream of portraits over the years…Brian Doben's Website.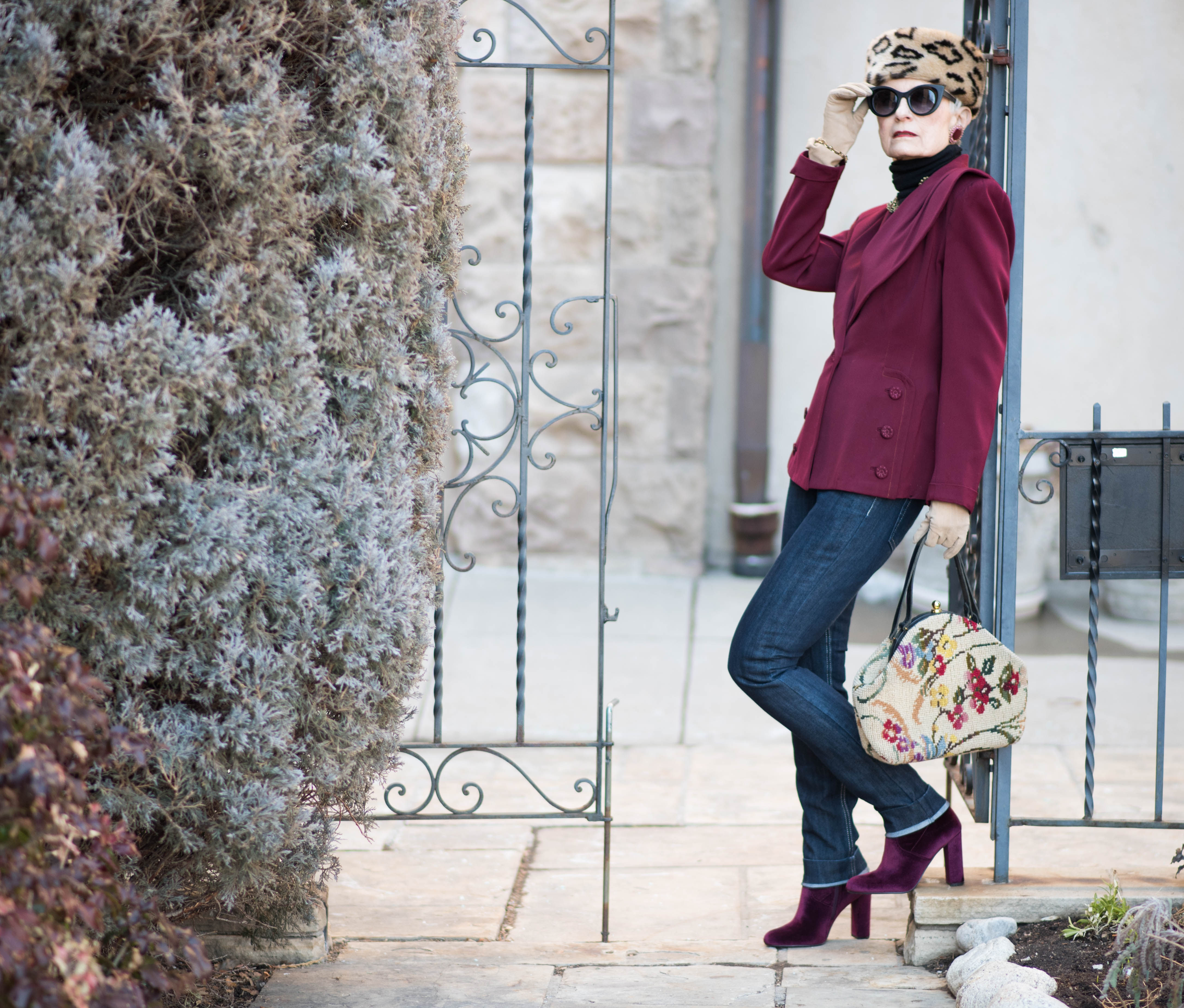 As part of my interview/photo shoot, Brian asked me to put together an outfit, demonstrating my process of creativity. I started with this burgundy 1940's jacket, which was hanging on a rack which held a variety of pieces that were in my mind's eye as elements for outfit building.  From there my gaze settled on a favorite vintage necklace and then wandered to these vintage burgundy earrings trimmed with pink rhinestones.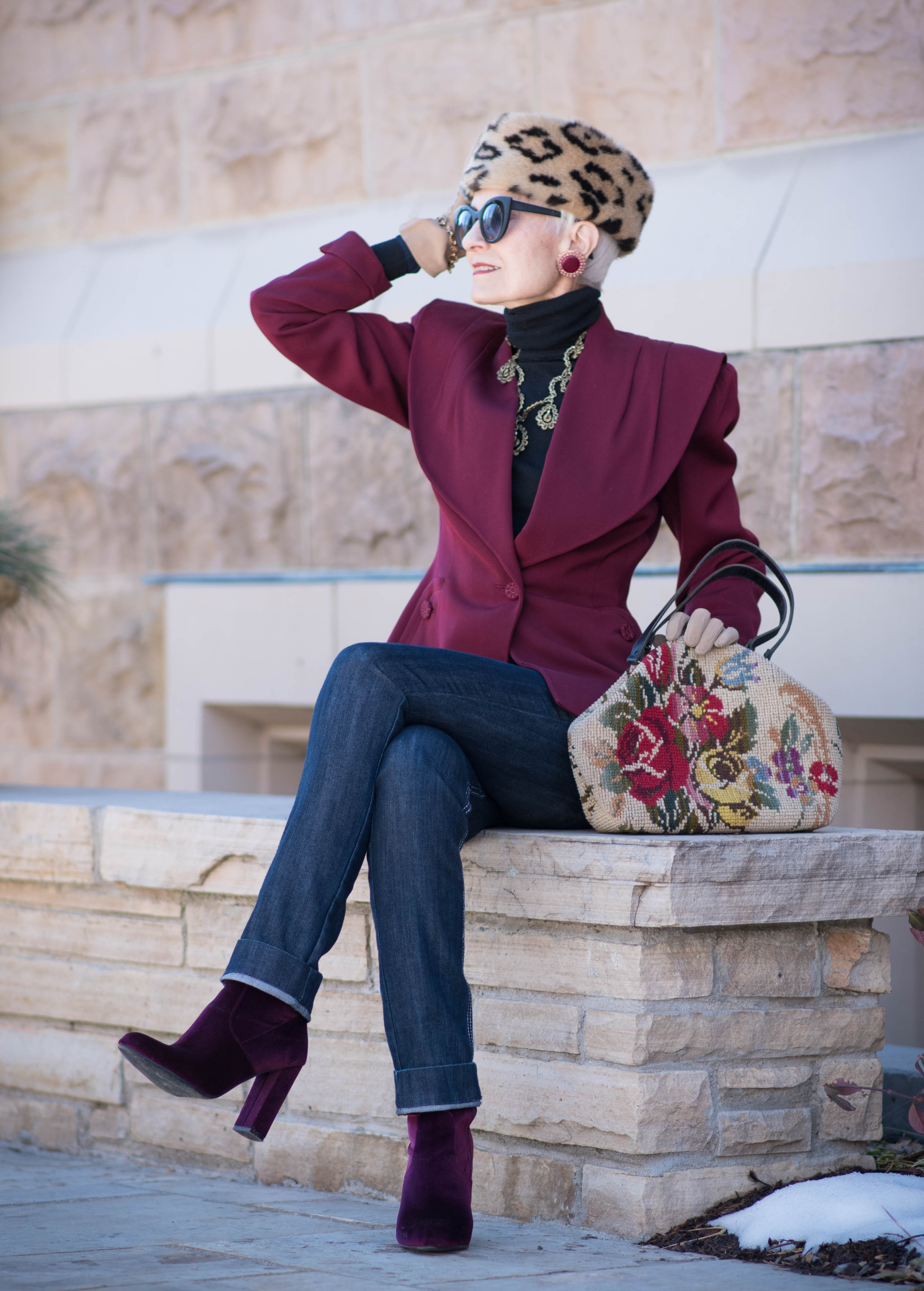 I then went in search of shoes, and came up with these contemporary suede burgundy heeled booties.  The vintage floral carpet bag emerged as the perfect accessory to bring more color and whimsey to the unfolding composition.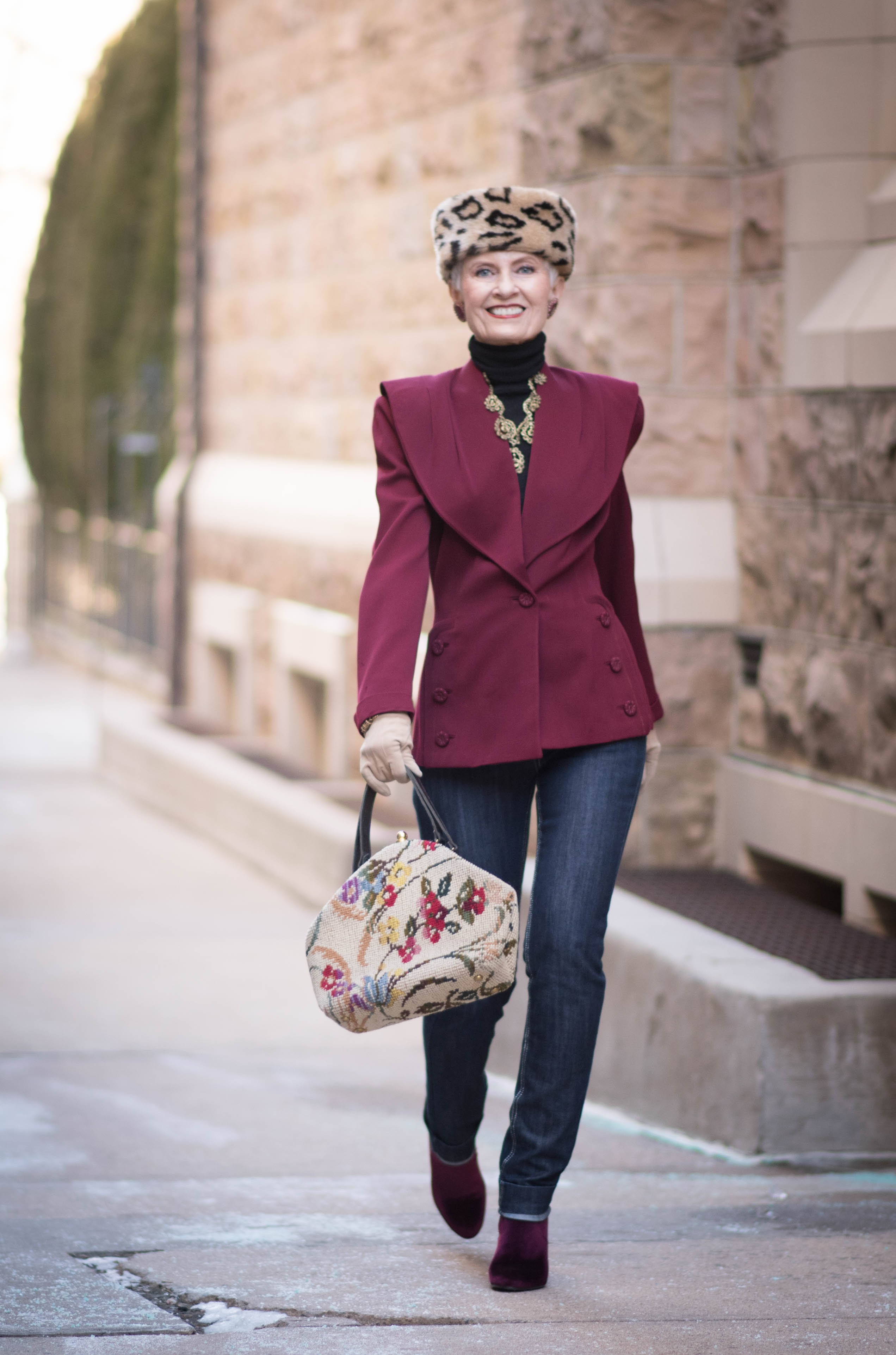 Photos By Jenna Westbrook
Then we were off to the hat room!  After careful consideration this 1960's faux fur leopard pillbox chapeau was the favored choice.  The vintage suede light beige gloves became mandatory!  And the vintage high waisted jeans provided the grand finale.
The time that I spent with Brian was magical and memorable. We covered many topics during  our conversation, and I was in awe of his stories and impressed with his kindness. I was humbled that a photographer of such significance chose to include Style Crone in his celebrated project.
I am aware that meeting Brian and learning about his ATWORK PROJECT would not have happened without the development of my own project, Style Crone. Blogging continues to bring treasured surprises that enrich my life in ways that I had never imagined.
The very next day  I actually wore the ensemble that I created during Brian's visit, and Jeanna and I were off to the Park Hill neighborhood of Denver to document the result of my ATWORK experience! The sunnies were the only new addition!