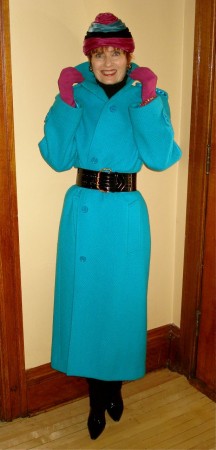 Photo by Nelson
Long vintage turquoise wool coat for Auer's-estate sale, vintage turquoise/fuschia/black velvet cone hat and  vintage fuschia gloves-estate sales, patent leather boots and belt-yard sales.
Today Nelson and The Style Crone decided to spend two days at the end of this week at the historic Broadmoor, a luxury hotel about an hour from home.  As I drove to yoga this morning I attempted to identify and name the feeling that I was experiencing.  And then it came to me.  I was elated!  Elated that we're going to have an adventure!  Elated that we're going to have a new experience!  A new experience totally unrelated to medical treatment!  Tomorrow I will choose the gowns for dinner.  After all, the gowns haven't had an outing for quite some time.
In the meantime, I seem to be 'hooked on turquoise.'  This coat has an Auer's label, a high end women's specialty store which closed years ago.  The coat is too big for me and I feel swallowed by its vivid 80's abundance. I wrapped the coat around me and held it in place with a wide patent leather belt.  Now that I've documented its bold intensity, I feel that I can release it.  My desire to downsize is becoming more pronounced.