The Book Launch: "Older And Wiser" By Ari Seth Cohen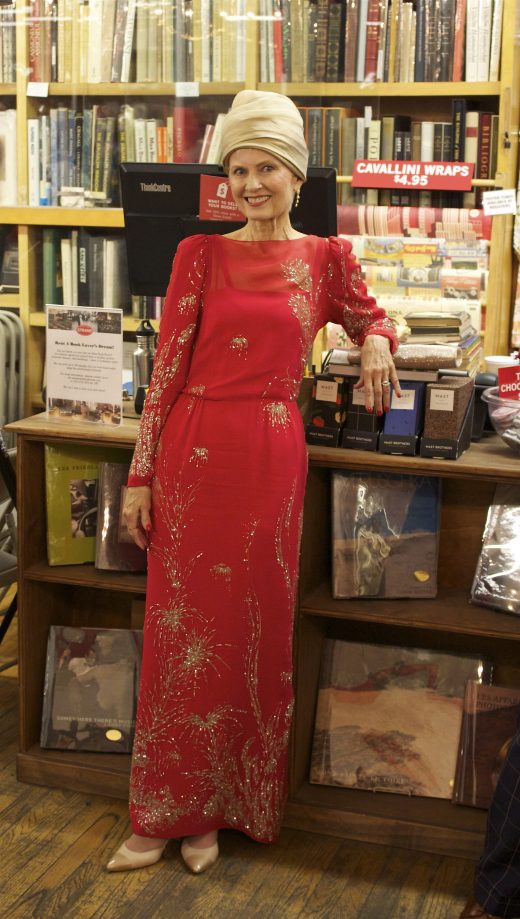 Photo By Daniel
The book launch for blogger, author and documentarian Ari Seth Cohen's new book Advanced Style: Older and Wiser HERE took place on Tuesday, April 26th at Strand Bookstore HERE in NYC.  Not wanting to miss this exciting event, Mr J, Daniel and I traveled to NY.  The evening was even more amazing than we expected!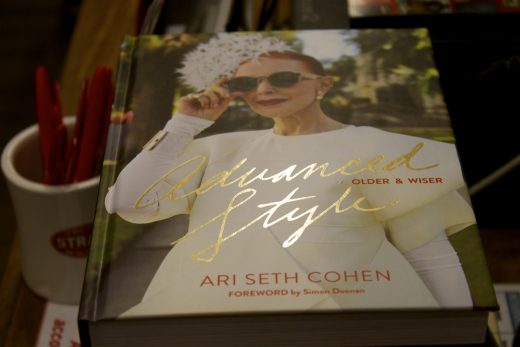 Photo By Daniel
With the gorgeous Valerie Von Sobel HERE on the cover, the book exceeds all expectations.  The pages are filled with inspiring images of stylish men and women from across the globe.  Ari continues to change the perception of older people with his photography and creative projects. The book includes a foreword by Simon Doonan; the witty and fascinating Creative Ambassador-at-Large at Barney's, writer and fashion commentator.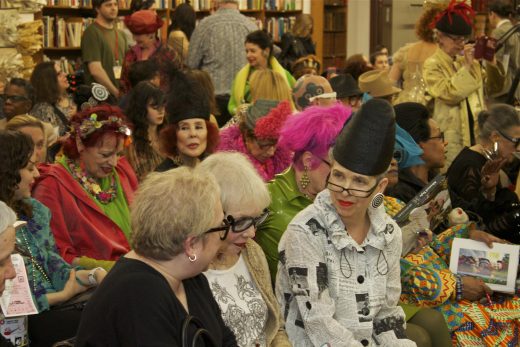 Photo By Daniel
The launch has been expertly covered by the bloggers Jean and Valerie of the Idiosyncratic Fashionistas HERE and Sylvia of 40+Style HERE.  This post will be filled with photos, which reflect the fun and colorful evening, filled with people who expressed themselves beautifully with their artful ensembles.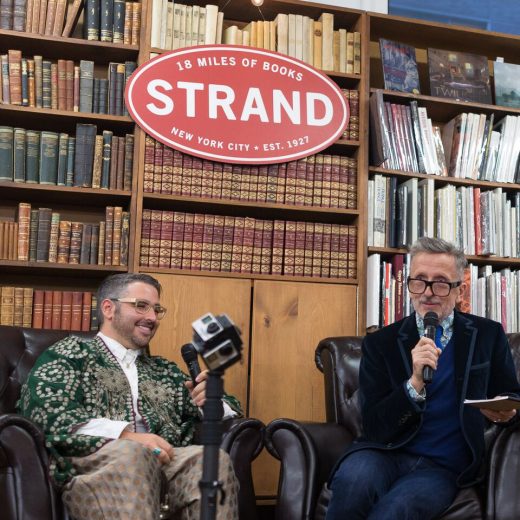 Photo By Denton Taylor HERE
After remarks by Ari Seth Cohen (on the left) and Simon Doonan HERE, three of the women featured in the book read from their essays included in Older And Wiser.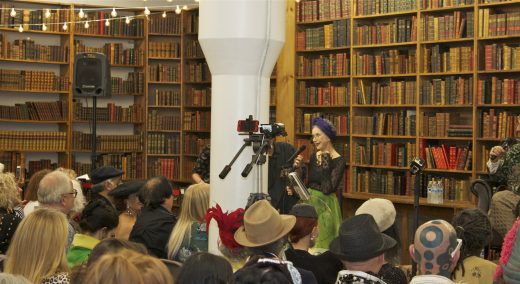 Photo By Daniel
Beatrix Ost HERE had the audience transfixed, wearing her signature turban and a gorgeous hand painted skirt.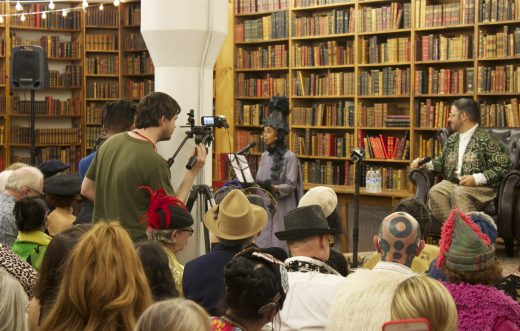 Photo By Daniel
Lana Turner read from her essay wearing one of the most amazing pieces of headwear on the face of the earth.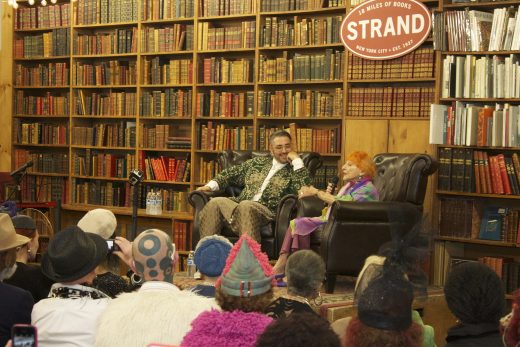 Photo By Daniel
Ilona Royce Smithkin, age 95, always inspires with her words and creative flair.  Singing "Que Sera Sera," she had the audience in the palm of her hand.  As usual!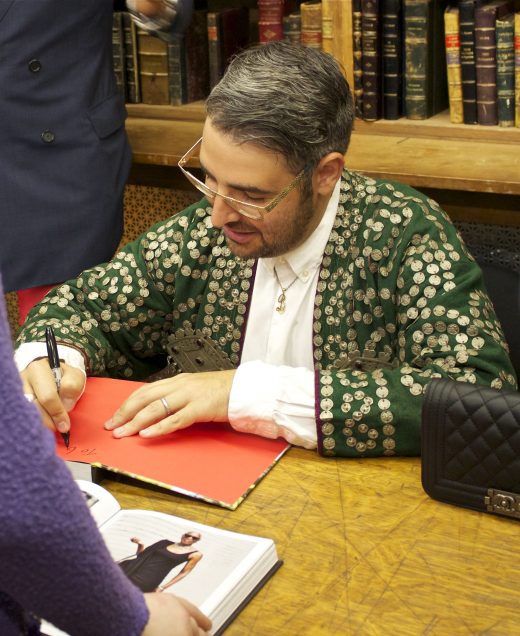 Photo By Daniel
Following the program, Ari Seth Cohen signed books, wearing a very special green and silver jacket.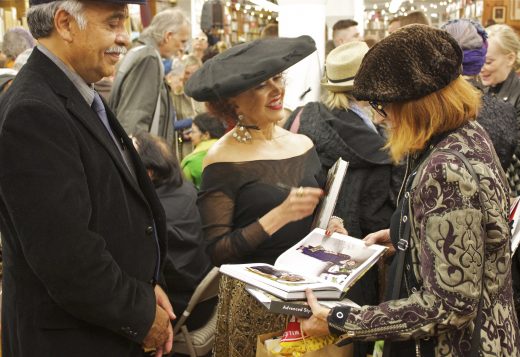 Photo By Daniel
Irene Coyazo signs her page in the book for an admirer.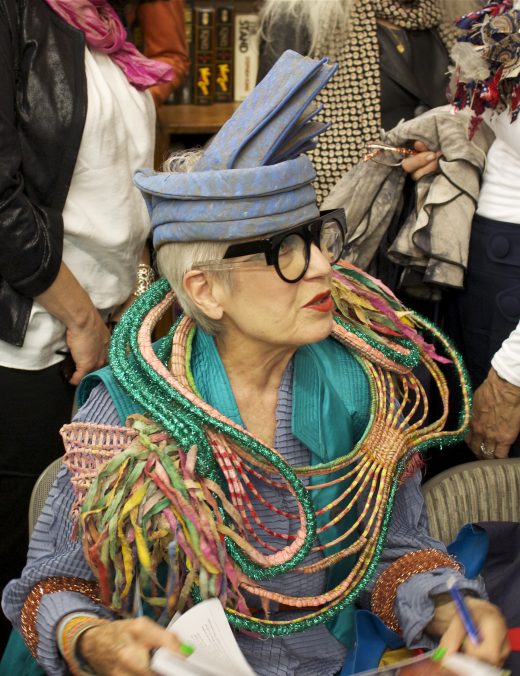 Photo By Daniel
Artist extraordinaire Debra Rapoport HERE is dressed in accessories of her own making.  Her hats always have me swooning!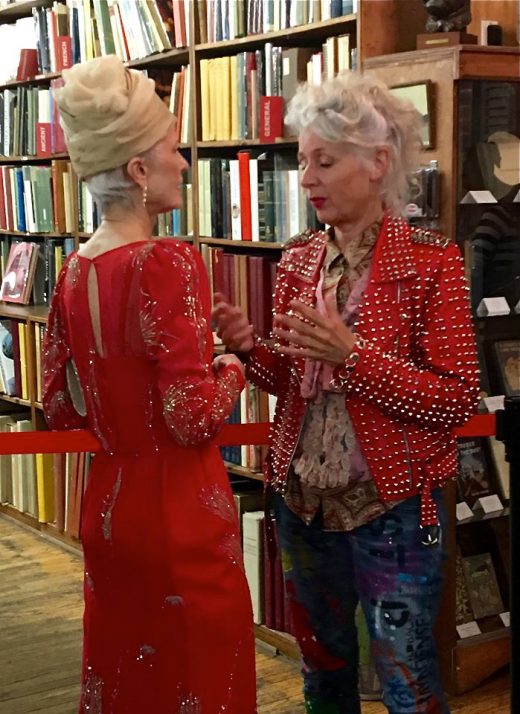 Photo By Anne Balcer
Talking with the stunning Sarah Jane Adams HERE, world traveler and Instagram star HERE, who is writing her own book about clothing as a form of communication.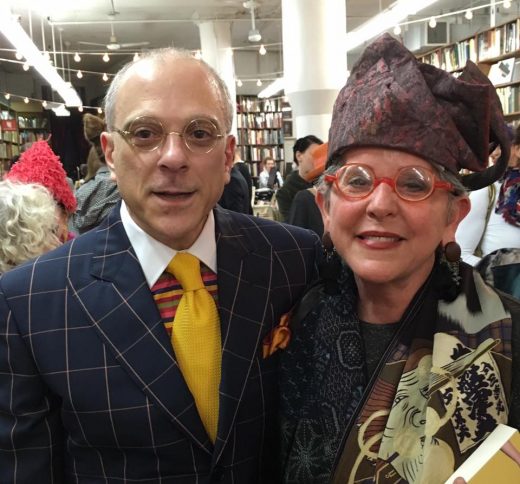 Photo From Merle Schwartz Weismer's Collection
I was thrilled to meet Richard Aloisio, New York Times Art Director, who has an amazing gallery on Instagram HERE and artist Merle Schwartz Weismer HERE, who is wearing a hat created by Debra Rapoport.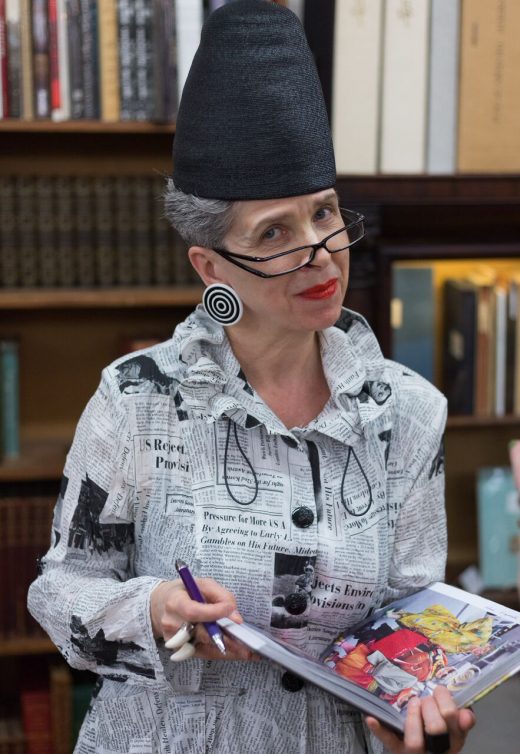 Photo By Denton Taylor
Blogger Valerie of the Idiosyncratic Fashionistas HERE wore a tall straw chapeau that provided an instant "hat attack" the moment that I laid eyes upon its splendor.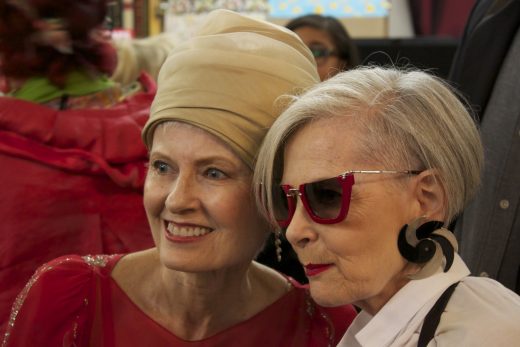 Photo By Daniel
Blogger Lyn Slater of the Accidental Icon HERE always wears the most fabulous large earrings and sunnies.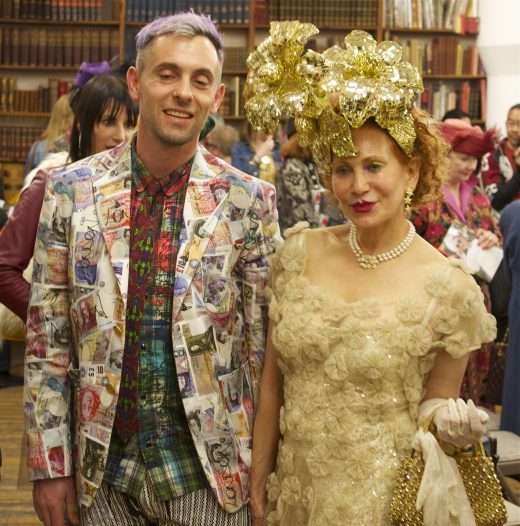 Photo By Daniel
The talented designer Patricia Fox HERE stands next to a gentleman who is a master pattern mixer!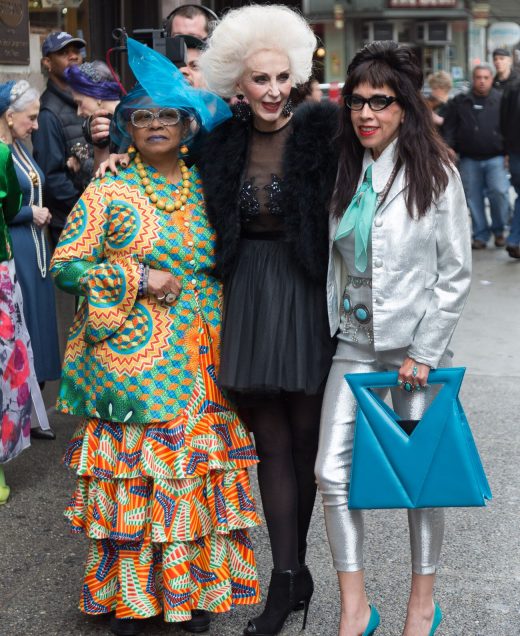 Photo By Denton Taylor
From left, Maureen Gumbe HERE, Colleen Heidemann HERE and Pearl Harbour HERE (carrying a handbag of her own design), stun the crowd outside the Strand!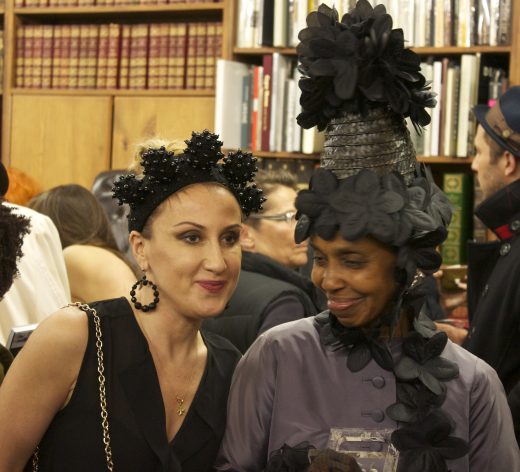 Photo By Daniel
Hat designer Nikki K HERE (on the left), wearing a headpiece of her own design, stands next to Lana Turner, offering a closeup of her magnificent headwear.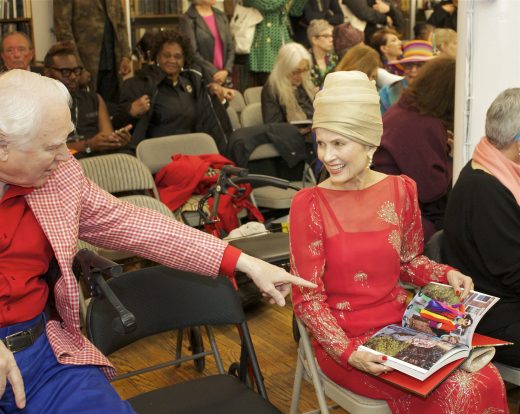 Photo By Daniel
Artist Richard Cramer and I admire his wife Carol Markel's photo in the book.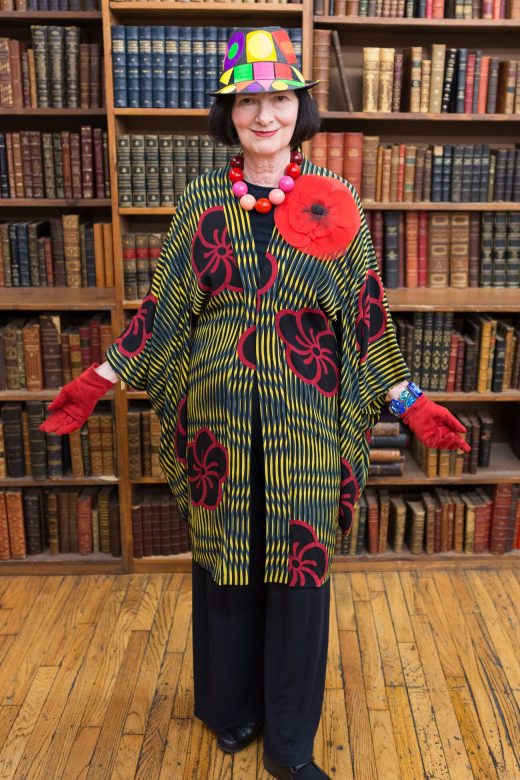 Photo By Denton Taylor
Blogger, artist and milliner Carol Markel HERE wears a hat and beads of her own design.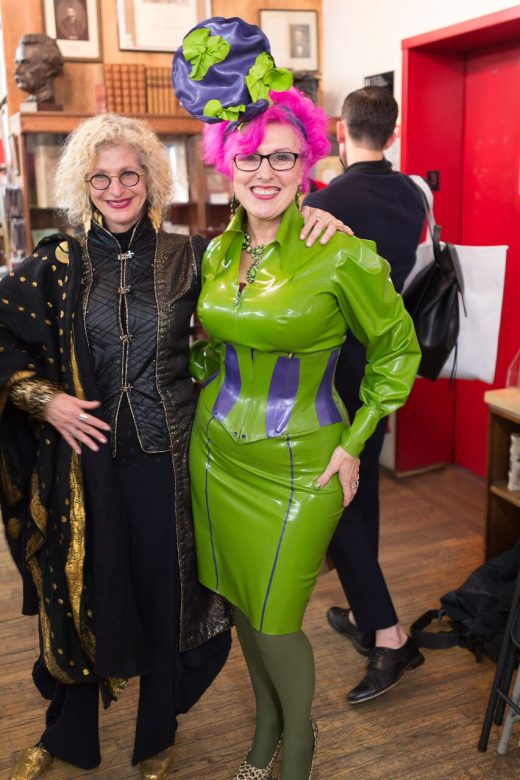 Photo By Denton Taylor
Instagrammer Dayle of Artful City Style HERE stands to the left of the Baroness HERE, who is wearing a fabulous green latex suit of her own creation.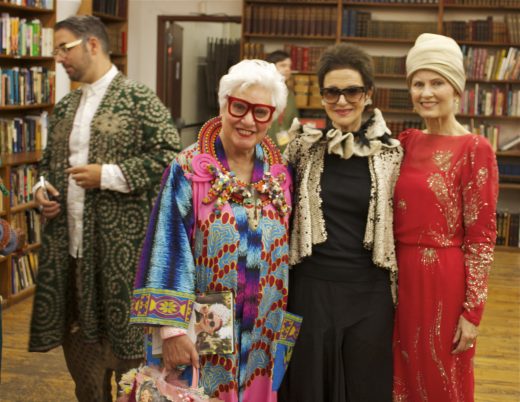 Photo By Daniel
From left, Ari Seth Cohen HERE, artist Sue Kritzman HERE and jewelry designer Diana Gabriel HERE enjoy the evening as the crowd wanes.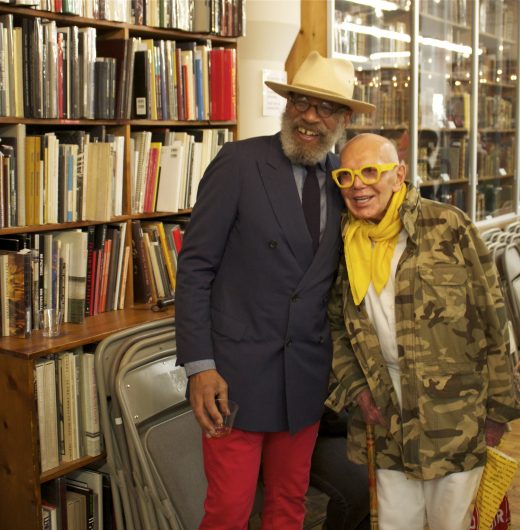 Photo By Daniel
From left, two of the dapper gentlemen included in the book, urban dandy Ignacio Quiles HERE of Sartorial Pairings and Bob Miller HERE, smile for the camera.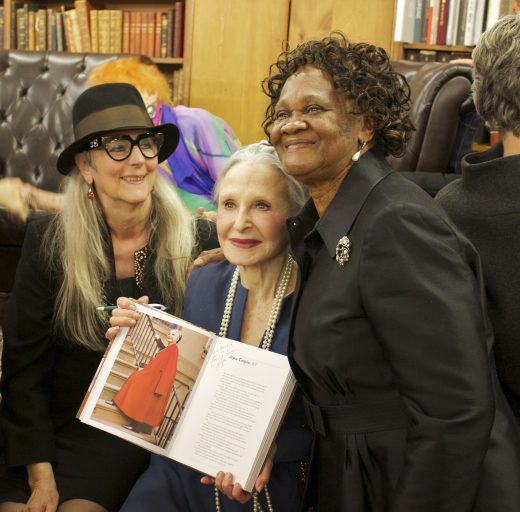 Photo By Daniel
Joyce Carpati, in her beautiful signature pearls, displays her photo and essay, as Rosebud, to the right, flashes a radiant smile.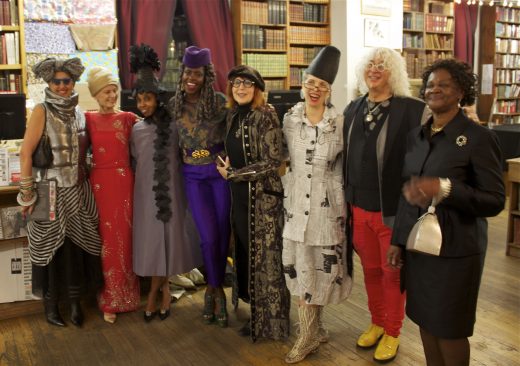 Photo By Daniel
As the evening came to a close, many of us formed a line for photos.  Tutti Bennett HERE on the left and her husband Paul Bennet HERE, second from right, came all the way from Australia for the event.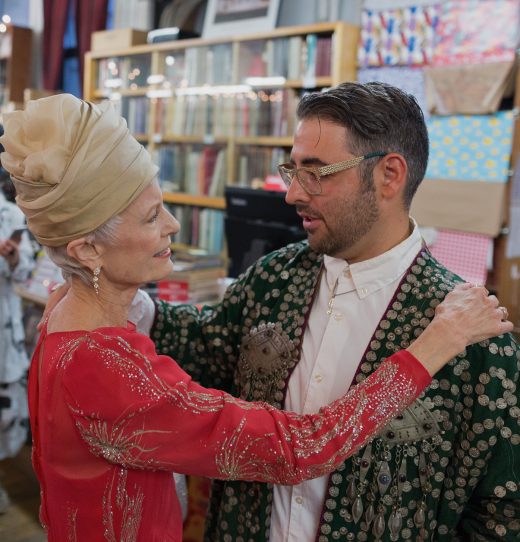 Photo By Denton Taylor
Thank you to the star of the event, Ari Seth Cohen, for a wonderful evening filled with warm, talented and creative people of all ages.  It is an honor to be included in the book. The Advanced Style Movement continues to inspire us all to live our lives to the fullest and challenges us to fulfill our dreams at any age, no matter what they may be.
Thank you to Heather Stoten of The Hat Workshop HERE for creating my gold silk turban, which accessorized the vintage red silk gown adorned with sparkles. The turban has been filled with joyful memories which will remind me of this magical evening over and over again from its perch in the hat room.
Linking up with Catherine's #iwillwearwhatilike HERE at Not Dressed As Lamb and Patti's Visible Monday HERE at Not Dead Yet Style.