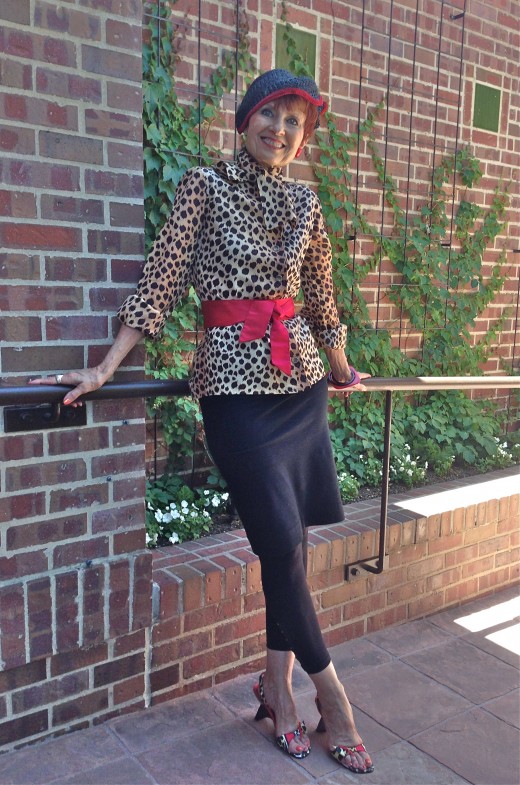 Diana and The SC continued their "Denver Discoveries" series at "Kirkland Museum of Fine & Decorative Art" HERE, located about seven minutes from home.  A treasure of a museum, we planned to take photos in front of its beautiful exterior.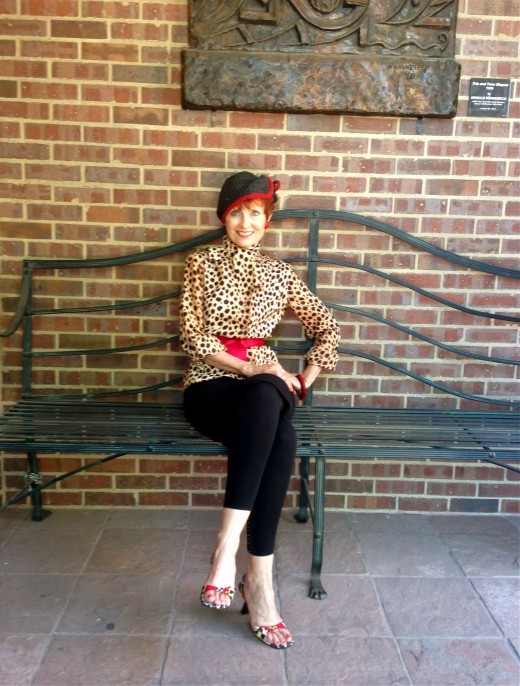 As we were playing near the entrance, the museum staff opened the door and gently informed us that we had appeared on their security cameras, but then warmly and generously invited us to enjoy the outrageous beauty inside.  An unexpected and irresistible gift on a Thursday afternoon!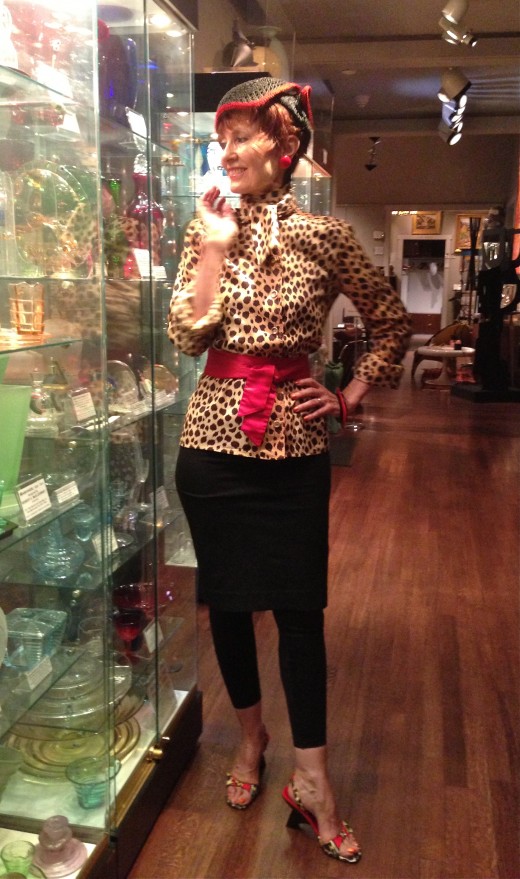 We were in awe of the numerous glass display cases which held objects that were a feast for the eyes.  Taking photos without the flash was challenging, but searching for the light was an adventure as we walked from room to room enthralled by the museum's collections.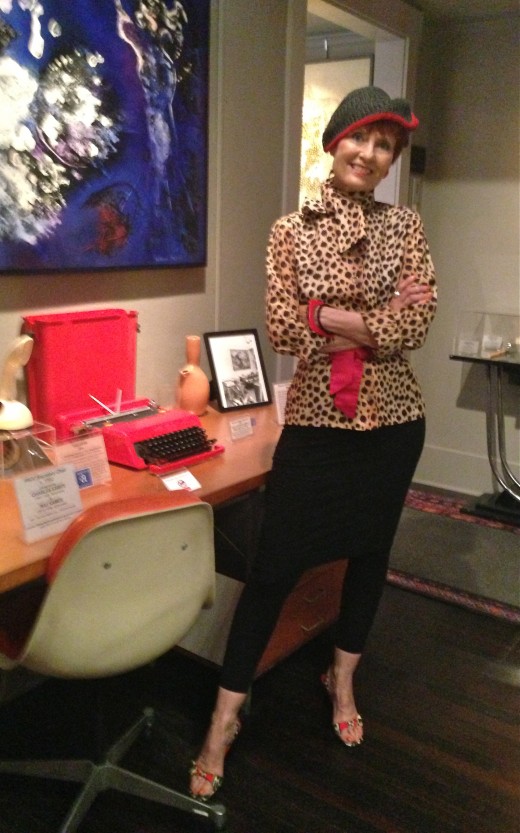 How could we resist the red typewriter, which was the perfect accessory for The SC's ensemble of the day.  And yes, it brought back memories of typing class in high school, which is now another relic of the past.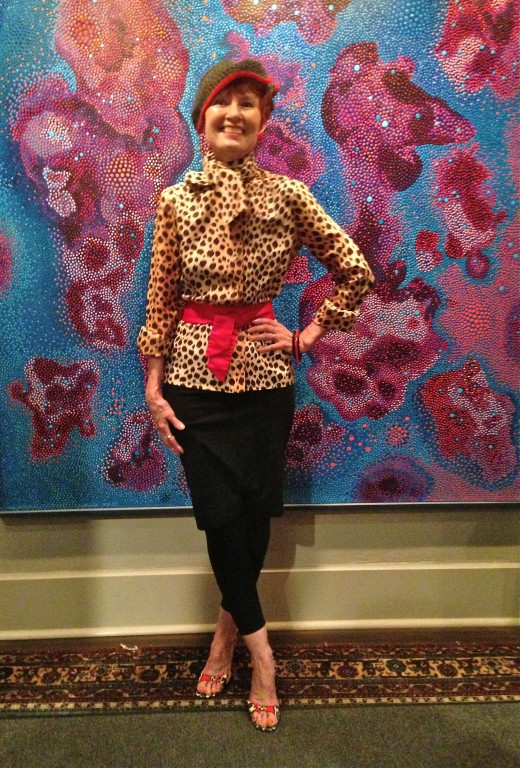 The countless pieces of art that covered the walls were a significant source of pleasure and captivating to the senses.
Spontaneously I joined the manikins, one which displayed a Campbell's Soup dress which was a promotional item from the Campbell's Soup Company, modeled after Warhol's Soup Can painting.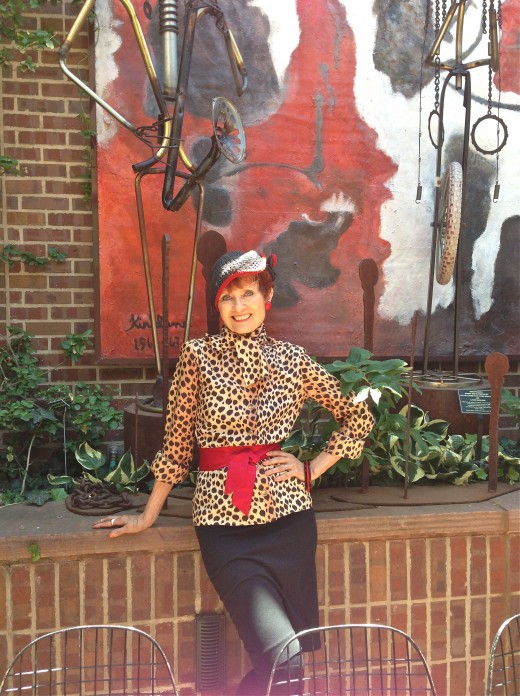 We were invited to the Kirkland's sculpture garden, which was an oasis in the center of the city.  We could have stayed for the entire afternoon in this peaceful spot that would take hours of pleasure to fully explore.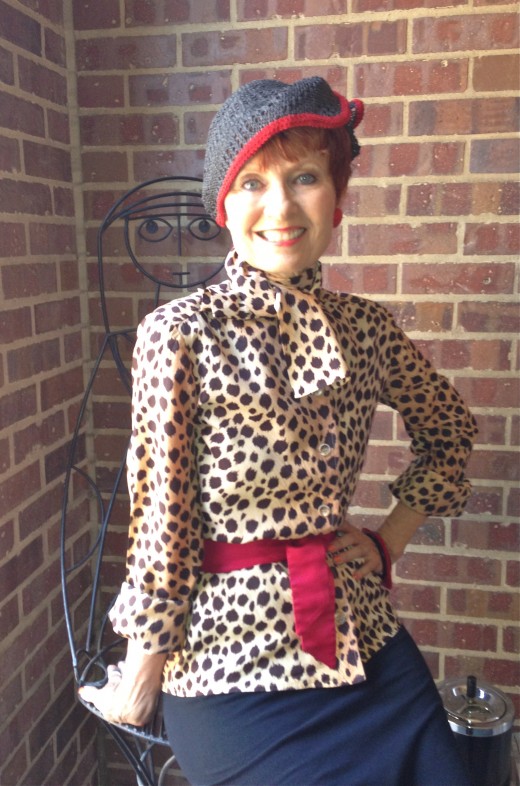 The seating itself was artful as The SC sees 'eye to eye' with the metal chair at the entrance to the sculpture garden.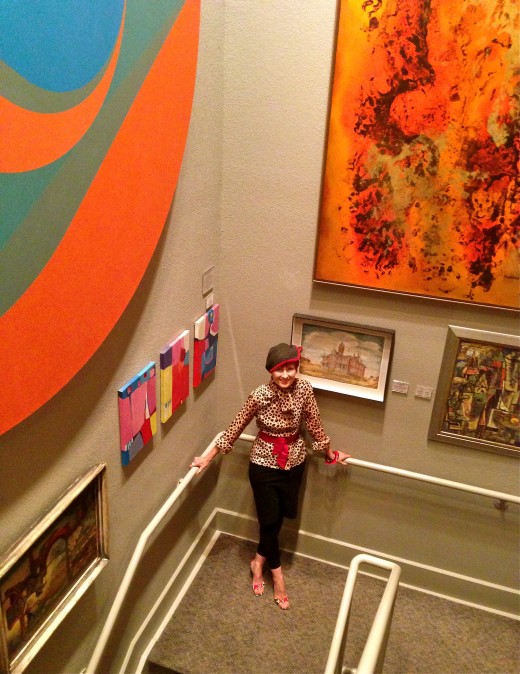 To be surrounded by the vastness of the color orange in the stairwell was a special moment.  For someone who can never get enough of this powerful color, I reveled in the dramatic splendor on the walls above my hat.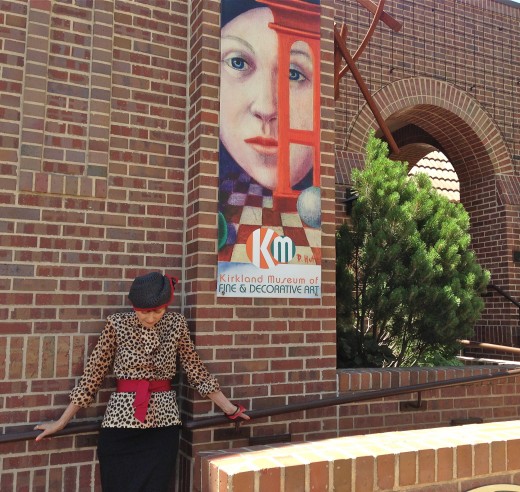 Thank you to the Kirkland and its wonderful and knowledgeable staff for a tour to remember.  I will be back!  And thank you to Diana for taking this journey with me on an afternoon of unfolding surprises and visual delight.  You never know what lies around the corner.
"Kirkland Museum has one of the most important displays of international decorative art in North America, from the last quarter of the 19th century through the first three quarters of the 20th century. More than 3,500 works are on view of Arts & Crafts, Art Nouveau, Glasgow Style, Wiener Werkstätte, De Stijl, Bauhaus, Art Deco, Modern and Pop Art. A major survey of Colorado art and some regional art is documented. Over 700 works by about 170 artists are shown at any one time, drawing from a collection of more than 500 Colorado artists and about 4,800 works. The Colorado collection is concerned with a period from 1820 to about 1980 (traditional through modern), with an emphasis on the 1870s onwards. The museum features a retrospective of Colorado's distinguished painter, Vance Kirkland (1904-1981). Kirkland Museum joins the studios of Jackson Pollock & Lee Krasner, Thomas Hart Benton, Grant Wood, Charles Russell, N.C. Wyeth, Georgia O'Keeffe and other sites as a member of Historic Artists' Homes and Studios, a program of the National Trust for Historic Preservation."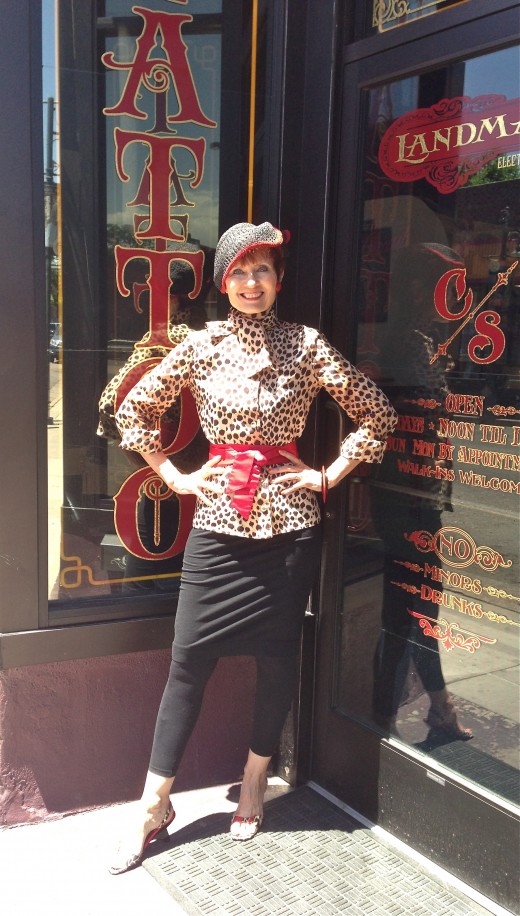 And to top everything off, just steps away was a tattoo parlor which revealed the diversity of a city block, which is one of the many reasons that I love living in an urban wonderland.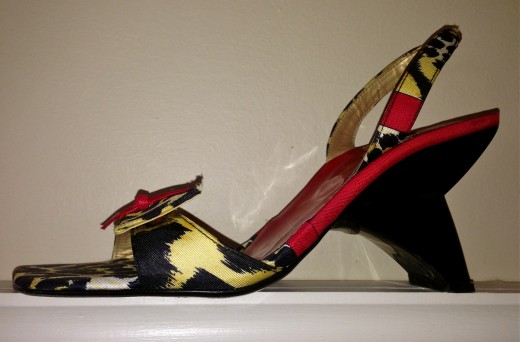 Photos By Diana
Todays's outfit began with the Stuart Weitzman leopard print and red/black patent leather heeled sandals which had never been worn after their purchase from the "90% off rack" at DSW over a decade ago.  They were discovered in their box during my gigantic organizational surge and were eager for an outing, along with the black with red trimmed straw hat by Piazza NYC; vintage leopard print Oscar de la Renta blouse, vintage red scarf as belt, vintage red earrings and red/black bracelets – estate sales, black leggings and pencil skirt – recent yard sale.
The SC is catching up with Patti and the creative crew at Visible Monday HERE at Not Dead Yet Style.  A weekly event not to be missed!
The shoes are running over to Bella's "Shoe Shine" HERE at The Citizen Rosebud.  Join us!