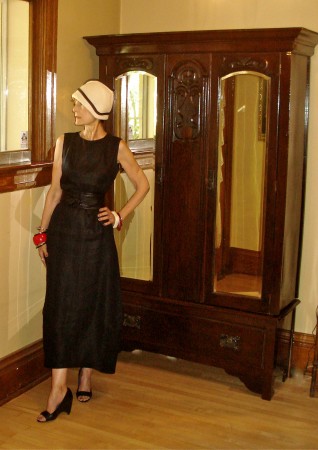 The SC spotted this armoire while helping a friend move her booth out of an antique mall which was closing the end of May.  This Art Nouveau piece was in the space next to my friend's booth and I admired its beauty with the thought that it would make a great accessory closet.  It was discounted at $250 from the original $800.  I decided not to purchase it, but the next day the owner called me and made an offer of $20 if I would pick it up and take it off her hands.  I couldn't resist what I viewed as a gift bestowed upon me.
With much excitement I dashed off to rent a U-Haul van for $19.99 and off I went to pick up the armoire.  With help we were able to get it into the van and upon arriving home, the two men who were refinishing the hardwood floors helped me move it into the house.  Resourceful has become my middle name.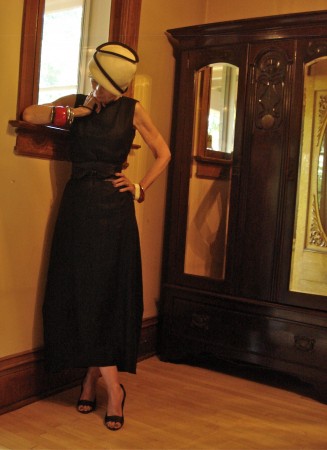 After dropping off the van, I arrived home to find that the floor workers had left for the day.  Pleased with myself as I admired my purchase, I opened the doors of the armoire and suddenly, apparently unsteady on its base, it came crashing down, taking me with it and throwing me to the floor with its crushing weight. Fortunately there was a less than two feet high padded cedar chest in its path which caught the descending piece, and saved me from the full impact of the falling armoire. Stunned, I was able to crawl on my stomach out of the small space beneath the wood structure and stand, moving about to make sure that I was unharmed.  As was my hat of the day!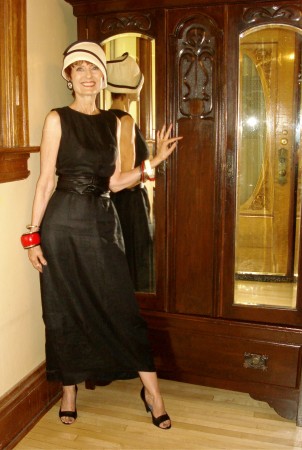 Fortunately the beveled glass which adorns the doors was unbroken, but the center piece between the doors had broken off.  The heart included in the hand carving above my hand in the photo was lying next to the fallen armoire.  I reflected on the symbolism, as our anniversary was two days away at the time of this frightening incident.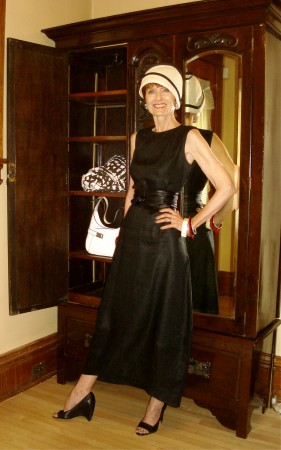 I had adjustable shelves installed in the armoire, which will now holds accessories as demonstrated above.  And its broken heart has been repaired.  If only human hearts could be healed with such ease.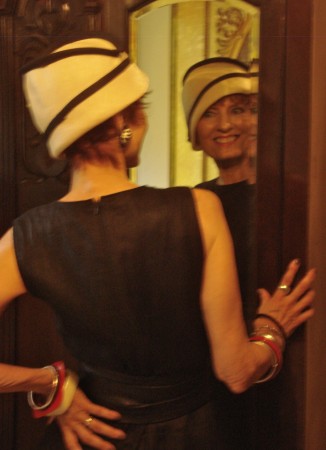 I'm aware that after the death of a partner, one can be at higher risk for accidents and illness.  Luckily I remain healthy and injury free, and pleased to enjoy my armoire.  But I have to say that I open its doors with care, making sure that it's safely and securely on its base.  Why test fate twice?
Photos by Diana
White straw cloche with black trim by 'Hats By Guy' HERE – NYC flea market, black linen DKNY dress which was worn the day that we moved Camille into the Fordham University dormitory in 1999 – summer retail sale, earrings and bangles – estate sales, shoes – summer retail sale years ago at Strut, a boutique in northwest Denver, black obi from deep within my inventory.
Linking to Patti's celebratory gathering at Visible Monday HERE.