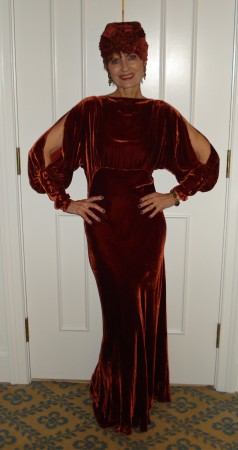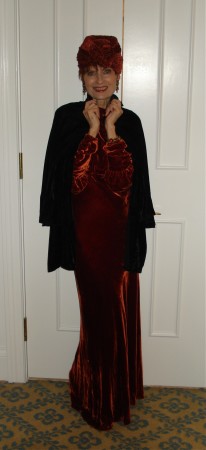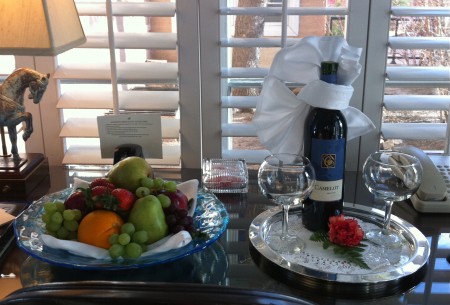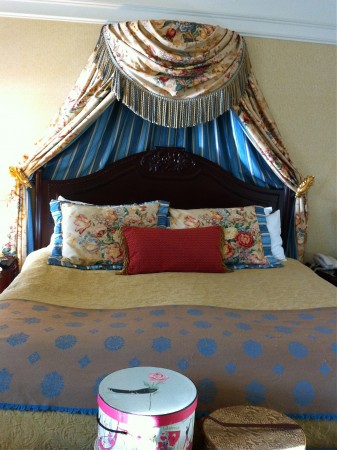 Photos by Nelson and The Style Crone
Vintage rust silk velvet gown-vintage shop, black silk velvet jacket-flea market, rust silk velvet structured turban-custom made by Jeanne Bjorn.
Nelson proclaims that we are in 'the lap of luxury.'  We feel nurtured and surrounded by beauty.  When we arrived at the Broadmoor late yesterday afternoon, we were surprised by gifts from friends from Kinetic Fitness Studio (Nelson's rowing home) that had lavished us with wine, fruit, flowers, a gift certificate for an elegant restaurant, and a special room in the hotel.   The SC expresses her gratitude with silk velvet and a smile as we absorb every moment of this life enhancing adventure.  In the bottom photo, even the hat box lid with gloved hand delivers a rose in appreciation.  I watch as Nelson relaxes and is touched by the generosity enveloping us in this special place in time.